Public Assistance Program and Applicant Briefings
As a result of federal disaster DR-4317 for flooding and severe storms, the following counties are eligible for Public Assistance, which allows local governments and certain nonprofits to recover a portion of eligible expenses for repairs to roads, bridges and public infrastructure; emergency response and protective costs, and the removal of storm-related debris from public right-of-ways:
Barry, Barton, Bollinger, Butler, Camden, Carter, Cedar, Christian, Cole, Crawford, Dade, Dallas, Dent, Douglas, Dunklin, Franklin, Gasconade, Howell, Iron, Jefferson, Lawrence, Madison, Maries, McDonald, Miller, Morgan, Newton, Oregon, Osage, Ozark, Perry, Phelps, Pike, Pulaski, Ralls, Reynolds, Ripley, Shannon, St. Louis, Stone, Taney, Texas, Washington, Wayne, Webster, and Wright.
All Requests for Public Assistance must be submitted to FEMA within 30 days of the June 2 disaster declaration date, or July 1. Applicants should note that the Requests for Public Assistance (RPAs) must first be received by SEMA, processed, and then submitted to FEMA by the July 1 deadline, and plan accordingly. For questions about applicant briefings or the Public Assistance program, call SEMA at (573) 526-9234.
SEMA conducted 13 applicant briefings to explain the Public Assistance program and the process for applying for federal assistance from June 19 to 23. SEMA received a total of more than 150 Requests for Public Assistance from county and local governments, school and road districts, and nonprofits agencies through June 22.
Applicant Briefing Schedule (attendance strongly encouraged for government entities and nonprofits if applying for FEMA assistance)
| Date | Time | Location |
| --- | --- | --- |
| June 19, 2017 | 8:00 a.m. | Lamar, MO |
| June 19, 2017 | 8:00 a.m. | Van Buren, MO |
| June 19, 2017 | 9:00 a.m. | Poplar Bluff, MO |
| June 20, 2017 | 8:00 a.m. | Neosho, MO |
| June 20, 2017 | 9:00 a.m. | West Plains, MO |
| June 20, 2017 | 9:00 a.m. | Fredericktown, MO |
| June 21, 2017 | 8:00 a.m. | Hollister, MO |
| June 21, 2017 | 9:00 a.m. | Mountain Grove, MO |
| June 21, 2017 | 8:00 a.m. | Pacific, MO |
| June 22, 2017 | 9:00 a.m. | Camdenton, MO |
| June 22, 2017 | 8:00 a.m. | Rolla, MO |
| June 22, 2017 | 9:00 a.m. | Louisiana, MO |
| June 23, 2017 | 9:00 a.m. | Jefferson City, MO |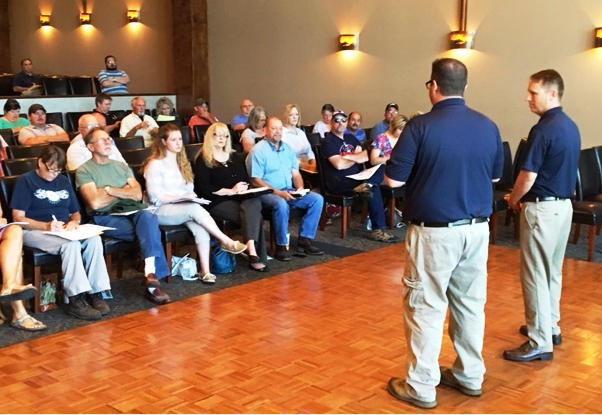 Applicant Briefings – A Key to the Public Assistance Process
Following a federal disaster declaration for Public Assistance, SEMA will schedule Applicant Briefings to inform eligible applicants in counties included in the declared counties with information about the Public Assistance process. Applicant Briefings are very important for applicants and required by FEMA to provide information about the Public Assistance program, and its rules and regulations. Potential applicants must note there is a 30 day deadline from the date of the disaster declaration to submit a federal request for Public Assistance to SEMA and for SEMA to process the requests for FEMA.
Most applicants have already begun repair work before the Applicant Briefings are held. They are still strongly encouraged to attend an Applicant Briefing to learn about program changes, eligibility information and to ensure their Federal Request for Public Assistance (RPA) is submitted in time to meet the 30-day submission deadline. If it is absolutely impossible for an organizational representative to attend any briefing and submit the RPA, the applicant can contact SEMA's Public Assistance program, which will work with them to submit their request.
Conducted by SEMA public assistance staff (FEMA representatives will be in attendance), the briefings walk applicants through the reimbursement process and explain how to determine eligible work, document progress, and submit Public Assistance applications.
Remember:
Applicant Briefing attendance is required to file an application for Public Assistance.
Each function in an applicant organization should be present for the applicant briefing to understand their role and responsibility in the process. These include senior officials, fiscal managers, administrative staff managers and the applicant's authorized representative.
Because documentation is a key – and often a misunderstood part of FEMA's Public Assistance program – anyone who will be involved in the documentation process should attend.
To expedite the process SEMA will accept signed notices of the intent to apply for Public Assistance at the Applicant Briefings.
FEMA may deny applications for assistance that are received past the 30-day deadline.
Most applicants have already started repairs before the Applicant Briefings. The key is that they document the damage and save all paperwork.

Take pictures of the damage.
Make sure you follow all of your organization's normal procedures, such as bids, contract approvals, signed contracts and invoices.
Keep copies of all these documents, because SEMA and FEMA will review them to determine whether you're eligible for reimbursement.
The applicant briefings will answer many of your questions, and a SEMA staff member will be assigned to each county to help with projects details. But if you have questions at any time, please contact SEMA Public Assistance Section Manager Alan Prenger at 573-526-9114 or [email protected].
FEMA Recovery Scoping Meetings
After the Applicant Briefings, FEMA will hold what are called Recovery Scoping meetings (formerly called Kickoff Meetings), which are one-on-one meetings between each applicant and FEMA Public Assistance staff. FEMA generally requires that applicants identify and report all of its disaster-related damage, emergency work activities, and debris quantities to FEMA within 60 days of the Scoping Meeting.
Public Assistance Following a Federal Disaster Declaration
SEMA's Public Assistance Section (part of SEMA's Recovery Division) administers federal grants to eligible public entities for the repair and restoration of damaged roads, bridges, public infrastructure and facilities in federally-declared disaster areas. These expenses included emergency protective measures or response costs as a direct result of the disaster. Public entities include municipal and county government, school districts, state agencies, and certain private, nonprofit organizations.
Funding is provided through the Federal Emergency Management Agency (FEMA), in accordance with Public Law 93-288, as amended by the Stafford Act. Public assistance grants are provided on a cost-share basis, with percentages established in the state-federal agreement, and a federal share of no less than 75 percent. The state of Missouri has traditionally paid a state share of 10 percent of the eligible expenses for local government entities.