Missouri Emergency Management Conference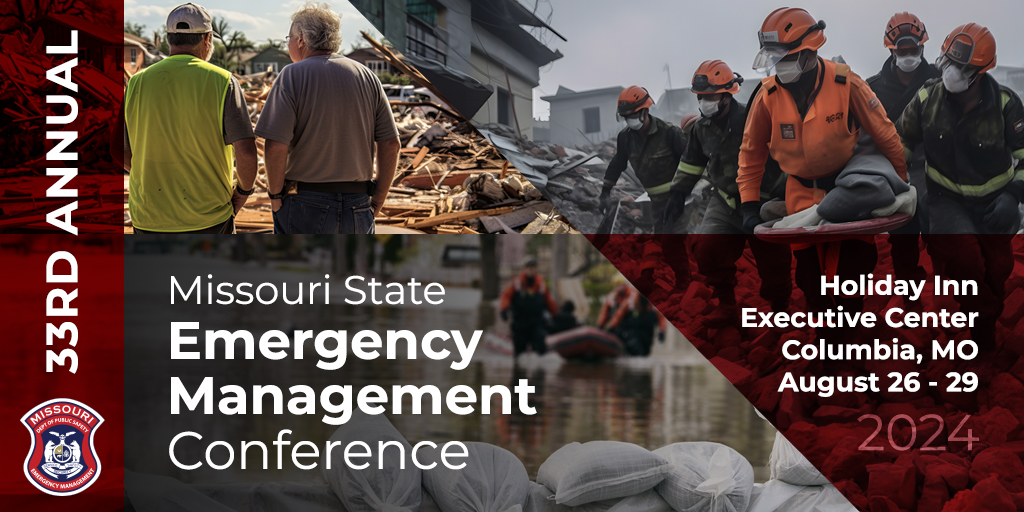 Please join us August 22 – 25, 2023, in Columbia, Missouri, for the 32nd Annual Missouri Emergency Management Conference! Back in person for the first time since 2019, this statewide event brings together more than 500 local emergency management and public safety professionals to better prepare Missouri, its citizens and its communities for future disasters.
From flooding, fires and severe weather to public health and everything in between, our communities count on us to respond. Register today to continue advancing your skills and cultivating an all-hazards approach to emergency management.
Breakout session topics include:
National Weather Service Updates
Missouri's Disaster Medical Assistance Team
Changes in the FEMA Damage Assessment Process
Introduction to the Terrorism Liaison Officer Program
Behavioral Health Strike Teams
New Madrid Seismic Zone Earthquake Evacuation Plan
Importance of Event After-Action Meetings and Reports
Hazmat Preparedness, Response and Recovery
Event Details
What: 32nd Annual Missouri Emergency Management Conference
Where: Holiday Inn Executive Center – Columbia, MO
When: August 22 – 25, 2023
Pricing
Early Bird Rate (ends 4/15/23): $280 per registrant
Regular Rate (as of 4/16/23): $330 per registrant
*A late fee of $50 per registrant will be assessed for registrations received on or after July 11, 2023.
Sponsors and Exhibitors
We need great vendors for this year's conference! View the 2023 vendor packages and contact Jeff Alton at jeff.alton@sema.dps.mo.gov with any questions. 
Hotel Information
Holiday Inn Executive Center
2200 Interstate 70 Dr SW
Columbia, MO 65203
Attendees can book their rooms via phone by calling 573-445-8531 and mentioning the group code Emergency Management Conference or book online using the link below.
Online Booking Link:
Missouri Emergency Management Conference