State Emergency Operations Center Activation Levels
The State Emergency Management Agency is prepared to respond quickly whenever Missouri is under the threat of a disaster or an emergency occurs. To maintain a high level of response readiness, Missouri relies on clear situational awareness, reliable communications and a robust but nimble response activation system. Timely, prudent action can save lives and reduce property damage.
Keeping Watch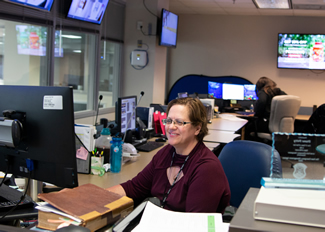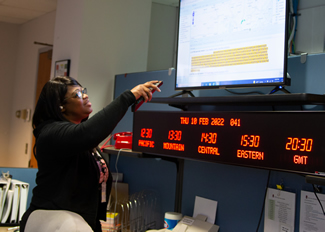 The State Watch Center serves as Missouri's situational awareness and communications nerve center. Maintaining clear situational awareness allows SEMA personnel to track potential threats like severe weather, and contact emergency response partners whenever a state response is required.
By keeping in contact with local, state (including SEMA's 10 regional coordinators across the state), federal partners, and the National Weather Service, SEMA is leaning forward to organize and mount Missouri's emergency response effort in coordination with the Governor.
Activating State Emergency Operations
The State Emergency Operations Center (SEOC) has four activation levels:

Level 4: Enhanced Monitoring –
Lowest SEOC activation. Requires SEMA staff in support functions only, with specified partner agencies providing additional support from their headquarters.

Level 3: Partial Activation –
Moderate SEOC activation. Requires state command staff and basic support functions, such as planning and logistics, and specified state agencies, depending on the threat.

Level 2: Full Activation –
Full SEOC activation. Requires state command staff, full emergency support function staffing, state agencies and state-level partners, and necessary additional technical expertise. Does not include FEMA staffing.

Level 1: Full State/Federal Response –
Maximum SEOC activation. Requires state command staff, full staffing of all emergency support functions, state agencies, and state-level partners, plus integration of FEMA personnel to coordinate federal resources and support.