Missouri Disaster Assistance Team-1 & Missouri Mortuary Response Team-1
Always Ready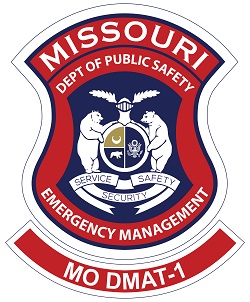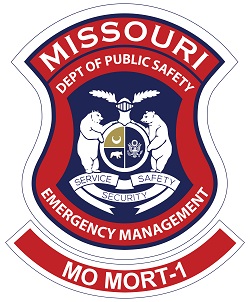 The Missouri Disaster Medical Assistance Team (MO DMAT-1) and the Missouri Mortuary Operations Response Team (MO MORT-1) operate throughout the state and are deployed to provide people the medical care they need when seconds count. Whether they are responding to a tornado, flood or other natural disaster; protecting health and saving lives in the wake of a terrorist attack or man-made disaster; providing support in the wake of a disease outbreak; or during times of mass fatalities.
Missouri Strong
Operating out of three strategic locations across Missouri in St. Louis, Springfield and Kansas City allows the teams to respond quickly to local disasters. MO DMAT-1 and MO MORT-1 scale to meet the unique challenges of each disaster, combining clinical, non-clinical and leadership staff so that skills are used effectively.
Full Disaster Support
Missouri Disaster Medical Assistance Team-1 stands ready to serve the residents of the State of Missouri and at the direction of the Governor in times of disaster where care could be needed.
The team is equipped to respond to a disaster location, and set up a mobile emergency room setting, with capabilities near a standard ER. Operations are based out of tents or whatever structures are available and state of the art equipment, pharmaceuticals, wound care, cardiac, respiratory, diagnostic equipment are used. A team of professionals respond to the event and performing their job there, just as they do at their primary job.
MO DMAT-1 and MO MORT-1 are staffed with medical professionals and para-professionals who can help area health systems respond by providing expert patient care. Team members include advanced clinicians (nurse practitioners/physician assistants), medical officers, registered nurses, respiratory therapists, paramedics, pharmacists, safety specialists, logistical specialists, information technologists, communication, death investigators, pathologist, odontology, anthropology, funeral directors and administrative specialists.
Mission assignments to MO DMAT-1 and MO MORT-1 vary widely. When a disaster strikes, team members may be called on to help hospitals and healthcare facilities serve the needs of their patients, support medical sites and shelters, and more. In a disease outbreak, they may provide mass prophylaxis. During a special event, they stand ready to serve in case of an emergency. No matter what the specific mission is, MO DMAT-1 and MO MORT-1 teams provide services with the up most professionalism and compassion.