Missouri Earthquake Preparedness
Preparing for "The Big One"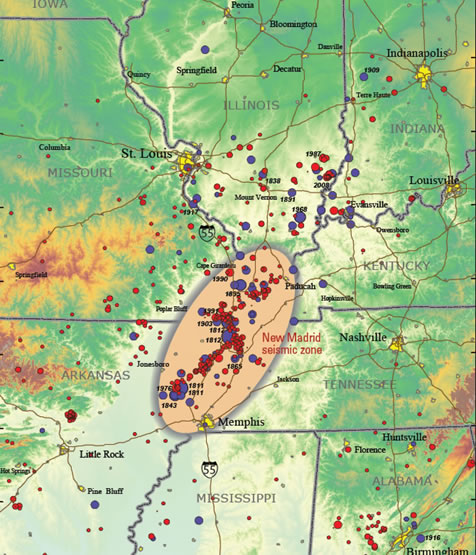 In Missouri and the central United States, it is important for families, schools and businesses to offer earthquake education and preparedness planning. You may not think of Missouri as being at risk of a major earthquake, but from Dec. 16, 1811 to Feb. 7, 1812, Missouri was rocked by at least three of the largest earthquakes ever to hit the continental United States. The most powerful was centered in New Madrid, in southeast Missouri. The earthquakes altered the flow of the Mississippi River, turned rich farmland into fields of sand and destroyed countless structures. People on the East Coast of the United States felt shaking, and church bells reportedly rang as far away as South Carolina! The risk of a similar earthquake remains, and today the then-sparsely populated New Madrid Seismic Zone includes many population centers.
Preparing and planning is essential for earthquake safety. The New Madrid Seismic Zone experiences about 200 small earthquakes a year, and scientists say it's only a matter of time before large earthquakes strike our area again. And unlike other disasters, earthquakes provide no advance warning!
The State Emergency Management Agency works with many government and voluntary agencies, businesses and schools to ensure a coordinated, effective response to the challenges a major earthquake would pose. Please explore this web site to learn more about the history and geology of the New Madrid Seismic Zone, and make sure you and your family know what to do before, during and after an earthquake in Missouri.