Debris Removal: A Key to Swift Disaster Recovery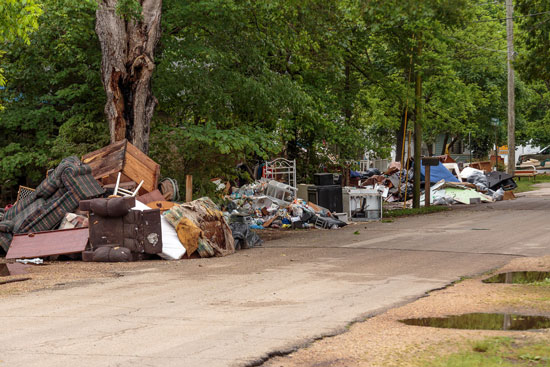 Removing debris quickly and cost effectively is a key issue as communities move to recover from flooding and other disasters
Any time Missouri communities work to recover from disasters like flooding, tornadoes or severe storms, they should understand that if the county in which they reside is included in a federal disaster declaration, the Federal Emergency Management Agency requires strict compliance with its rules to ensure reimbursement of debris removal expenses.
Remember these FEMA rules:
FEMA reimburses ONLY for the removal of residential debris, it does NOT pay any share of the expense of removing commercial debris or commercial property to the curb.
FEMA reimburses for the cost of removing debris from curbside or the public right-of-way. It does NOT reimburse for any expenses incurred moving debris from private property to the curb.
FEMA does NOT reimburse for the removal of titled property, such as cars, boats, ATVs, or mobile homes.
FEMA does NOT reimburse for the cost of removing household trash or unwanted items that were not damaged in the flooding. Household garbage should be kept away from flood debris where it can be picked up by regular trash haulers.
FEMA does NOT reimburse for the removal of debris left by private contractors hired to gut or remodel residential properties, even if the work is being done as a result of flooding. It is the responsibility of the contractor to dispose of this debris.
What residents should do:
Move debris caused by the flood to your curb or the end of the property line at the public right-of-way. Do not let debris create a traffic hazard by spilling into streets.
Those without a sidewalk, ditch or utility line in front of their property should place debris at the edge of their property.
Do not block utilities, fire hydrants, mail boxes, manhole covers, etc.
Those in need of assistance getting debris to the curbside should call 2-1-1 for assistance. 211 can also provide information on disaster-related volunteer opportunities and relief efforts so you can put your time and talent to work to assist others.
Do NOT place items you want to keep at the curbside, public right-of-way or other public areas so that debris haulers do not take something you want to save.
Listen for information about flood-related debris collections from your local government so you can take advantage of the earliest opportunity to have debris removed. Please follow local guidance for special instructions in assisting and complying with these efforts.
For local government leaders:
Maximizing FEMA debris reimbursement under the Stafford Act should be a critical part of a community's recovery plan. The current federal program, if authorized under a major disaster declaration, is incentivized as follows only if debris removal is completed within 180 days of the incident start date:
95 percent reimbursement (85 percent federal and 10 percent state) for eligible debris removed during the first 30 days of the incident (from when the incident began to 30 days later);
90 percent reimbursement (80 percent federal and 10 percent state) for the next 60 day period (days 31-90) following the start of the incident; and,
85 percent reimbursement (75 percent federal and 10 percent state) for any additional debris removed from day 90 to day 180.
If debris removal is not completed within 180 days, none of the above incentives will apply. This enhanced reimbursement is an important benefit to aid local governments. Other important debris considerations include the need to document where the debris originated; where it was staged if at all; and its final disposition.
Also, when burning or burying debris outside of a landfill or established burn site you must obtain a Missouri DNR burn permit or an archaeological survey.
State Public Assistance Program Information