Avoiding Scams & Fraud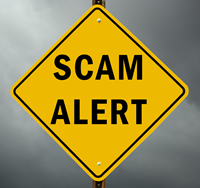 Unfortunately, natural disasters often bring out con artists, scammers and those looking to make a quick buck by taking advantage of disaster survivors and others wishing to help. Criminals frequently target those who are perceived as vulnerable or in need of assistance. Scams that consumers should be aware of following disasters are home repair scams, price gouging, charitable donation scams and individuals attempting to sell automobiles damaged in a disaster.
Home Repair Scams
Homeowners should be cautious when hiring contractors for home repairs. Criminals, known as "storm chasers," often head to an area hard-hit by a disaster. These criminals go door-to-door offering quick fixes to consumers who appear to be in urgent need of repairs or supplies.
Consumers should be wary of any contractor offering repairs for a low cost, but requiring a full payment upfront. Contractors attempting to scam will often collect as many upfront payments from as many individuals as possible, and leave town without fulfilling their services.
Other things that individuals should be suspicious of when hiring a contractor include:
Contractors driving vehicles that are unmarked or that have out of state plates.
Contractors without a physical address.
Contractors that use a high-pressure sale technique.
Contractors that refuse to show an identification card.
Some tips to avoid a home repair scam are:
Hire known and recommended repair companies.
Get at least two estimates from different companies.
Get all agreements in writing.
Make a full payment only when the terms of the contract are met.
Know what a contract should state (Page 7) when hiring a home remodeler.
Price Gouging
Another type of scam common following a disaster is price gouging. Price gouging occurs when a business charges a price that is much higher than reasonable for products. Consumers should be aware of prices, and report any business that appears to be price gouging for necessary supplies like water, ice, plywood, gas and generators.
To report price gouging in Missouri to the Attorney General's Office, submit a complaint form online or call the Consumer Protection Hotline at 1-800-392-8222.
Charitable Donation Scams
After a disaster, charities often form in order to help those affected. While the public is encouraged to donate to those charities, donors should be sure that the charity is a worthy one.
Those attempting to make a monetary donation should use caution and be aware that not all charities are what they appear. In response to a disaster, bogus charities are often created in an attempt to profit from the generosity of the public.
Some tips donors should consider before donating are:
Do not give cash
Make out a check or money order to the organization, not the individual collecting for the organization
Be wary of excessive pressure for on-the-spot donations.
Do not hesitate to ask for written information about the charity, and be wary of charities that describe a lot of emotions towards the victims and lack information concerning what they will do to help them.
Do not respond to unsolicited (spam) email containing information about charities and donations.
Research the organization and their purpose using the internet.
Do not provide personal or financial information to anyone soliciting contributions.
Donors are encouraged to use the official Missouri State Emergency Management Agency (SEMA) Aidmatrix portal to ensure a safe, secure donation a verified and legitimate organization of your choice.
Selling Damaged Automobiles
Finally, in the months following a disaster, consumers searching for a used car should be wary of the statement "as is." Vehicles involved in disasters, most commonly floods, offer a huge market for criminals looking to profit off of damaged goods. Buyers should always look for signs of flood damage on used vehicles such as rust, water lines and odors before purchasing. Buyers can also request to view the cars history before purchasing a vehicle.
Consumers are encouraged to report any type of scam or fraud witnessed in the aftermath of a disaster. Reports regarding any type of fraud and price gouging can be made by filing a complaint online with the Attorney General's Consumer Protection Division or by calling 1-800-392-8222.
Resources
Information on charitable contribution schemes and other types of online schemes.
If you are a victim of an online scheme, this partnership between the FBI and the National White Collar Crime Center (NW3C) will assist you in filing a complaint.
The Aidmatrix portal assists individuals in making secure donations of products, services or equipment to relief efforts. For more details or to make a donation, click the link above or call 1-800- 427-4626.
Use this link to donate to long term disaster recovery efforts in Missouri.