Missouri Floodplain Management/Floodplain Insurance Programs
Flooding is generally the most common and costliest type of disaster Missouri experiences, but standard homeowner's insurance does not cover flooding, so it's important to have protection from damage associated with flooding.
SEMA's Floodplain Management Section administers the National Flood Insurance Program (NFIP) for the state of Missouri. NFIP offers flood insurance to homeowners, renters and business owners if their community participates in the program, providing more than $4 billion in flood insurance coverage for Missouri homes and business annually. Participating communities agree to adopt and enforce floodplain management ordinances that meet or exceed FEMA requirements.
The National Flood Insurance Program was created by Congress in 1968 to provide a means for property owners to protect themselves financially from flood events. The program is administered by the Federal Emergency Management Agency.
The NFIP offers flood insurance to homeowners, renters and business owners if their community participates in the NFIP. Participating communities agree to adopt and enforce floodplain management ordinances that meet or exceed FEMA requirements.
Missouri communities that have recently enrolled in the NFIP
Cuba
River Bend
Diamond
Lanagan
Linneus
Bethel
Hawk Point
Koshhonong
How NFIP Insurance Policies Helped Missouri Homeowners in Historic 2017 Flooding
$19 million was paid to policyholders before the federal disaster was declared (Flood insurance pays even when there is no disaster declaration.)
26 percent of NFIP claims filed were NOT in a Special Flood Hazard Area.
Using FHA's 203 (k) Rehabilitation Program to Reduce Flood Losses for Homeowners
Homes in a high-risk area (also known as a Special Flood Hazard Area), have a one in four chance of flooding during the life of a 30-year mortgage. That's higher than the chance of a fire.
One way to combat flood losses is by elevating a home higher than where flood waters are estimated to reach in a major flood. This is known as the Base Flood Elevation (BFE). Building or renovating a home higher than the BFE will reduce future flood damage, and may help reduce your flood insurance costs.
Using 203(k) for Purchase or Refinance
Elevating a home or other flood protection (mitigation) activities can be expensive. One affordable solution for homeowners and homebuyers is to finance the mitigation activities over time with FHA's 203(k) loan program. This allows the purchase (or refinance) a flood-prone house and the cost of its rehabilitation through a single mortgage.
Benefits of Building or Renovating Above the Base Flood Elevation (BFE)
May reduce NFIP insurance premiums (up to 70 percent)
Reduces flood damage
Easier and faster clean-up after a flood
Increase home value
Safer home for current & future owners
An Affordable Solution
FHA's 203(k) program fills an important need. When buying or repairing a house, a borrower usually has to follow a complicated and costly process, including the separate financing for the required rehabilitation work. These separate acquisition and rehabilitation loans often have relatively high interest rates, short repayment terms and a balloon payment. Traditional lending requires Loan-to-Value ratios that may prohibit financing of mitigation activities.
How it Works
A 203(k) loan helps borrowers by ensuring a single, long-term, fixed or adjustable rate loan that covers the acquisition and rehabilitation of a property. 203(k) loans offer:
lower loan-to-value requirements
competitive rates
low down payments
lower credit standards
And by using the program to mitigate flooding, the borrower may reduce flood insurance premiums.

Eligible Mitigation Activities
The extent of the rehabilitation covered by a 203(k) loan may range from minor repairs to total reconstruction. Where structural repairs or alterations are made, the cost of the rehabilitation must be at least $5,000. The loan amount must fall within the FHA mortgage limit for the area and must be supported by a property appraisal.
Eligible flood mitigation activities* include but are not limited to:
Structural elevation of the home above BFE
Relocation of the home to a non-flood prone site
Dry floodproofing (e.g., make structure water-tight)
Relocating utilities and systems out of a basement or elevating the utilities
Overhead sewers and/or backflow prevention
Wet floodproofing (e.g., installing flood vents)
Structural alterations and reconstruction
Adding or replacing roofing, gutters and downspouts
*Eligible activities are subject to state and local code requirements
Getting Started
Check with your local floodplain administrator to determine flood mitigation alternatives and code requirements. For ideas, visit: http://bit.ly/2DCKlCu.
If you're considering elevation, and need a contractor visit: http://www.iasm.org and click "Find a Mover."
If you are considering dry floodproofing, make sure products meet the ANSI/FM Approvals 2510 standard! For qualified products, visit: http://nationalfloodbarrier.org/.

To apply for the 203(k) program, applications must be submitted through an FHA-approved lender, which can be found at http://bit.ly/2EvbntJ.
For additional information on FHA's 203(k) Rehabilitation Program, please visit: http://bit.ly/2mmStwv
What you should know about flood insurance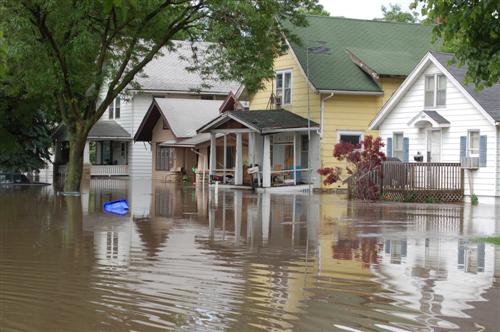 Homeowners are 85 percent more likely to use a flood insurance policy during the span of a 30-year mortgage rather than a homeowner's policy.
More than 20 percent of NFIP claims are submitted by people who own property outside of high-risk areas.
If you live in an area with a high risk of flooding, you have a 25 percent chance of your home being flooded over a 30-year mortgage. In moderate- to low-risk zones, the chance of flooding is lower but still present.


Source: National Flood Insurance Program figures for U.S.
Benefits of Flood Insurance Compared to Disaster Assistance
Flood Insurance
You are in control. Flood insurance claims are paid even when there is no federal disaster declaration.
There is no payback requirement.
Flood insurance policies are continuous, and are not non-renewed or canceled for repeat losses.
Flood insurance reimburses you for all covered building losses up to $250,000 for residential structures and up to $500,000 for non-residential structures. Contents
coverage is also available up to $100,000 for residential structures and up to $500,000 for non-residential structures.
In Missouri, the average premium for a flood insurance policy is about $1,000 annually. In moderate to low risk zones (preferred risk policies), annual premiums can be less than $200.
Disaster Assistance
Most forms of federal disaster assistance require a federal disaster declaration.
Federal disaster declarations are not awarded in all flooding events.
The most common form of assistance is a loan that must be repaid with interest.
The duration of a Small Business Administration (SBA) disaster home loan could extend to 30 years.
The average federal Individuals and Households Program assistance award for federal disaster declarations for flooding in 2008 was less than $4,000.
Find more NFIP information and resources on FEMA's National Flood Insurance Program website.
For people who live in a mapped high-risk Special Flood Hazard Area (SFHA), federal law compels federally backed mortgage lenders to require mortgagees to purchase flood insurance. SEMA Floodplain Management Section works with communities that participate in the NFIP to ensure compliance with program requirements.
SEMA also is a Cooperating Technical Partner (CTP) with FEMA in the production of Digital Flood Insurance Rate Maps (DFIRM) under the federal Risk Mapping, Assessment and Planning (Risk MAP) program. In addition, the section partners with the Missouri Floodplain and Stormwater Managers Association (MfSMA) and other professional organizations to offer NFIP training for local floodplain administrators, planners, insurance agents, elected officials, lenders, realtors, engineers and surveyors.
---