Public Assistance Program
SEMA's Public Assistance Section (part of SEMA's Recovery Division) administers federal grants to eligible public entities for the repair and restoration of damaged roads, bridges, public infrastructure and facilities in federally-declared disaster areas. These expenses included emergency protective measures or response costs as a direct result of the disaster. Public entities include municipal and county government, school districts, state agencies, and certain private, nonprofit organizations.
Funding is provided through the Federal Emergency Management Agency (FEMA), in accordance with Public Law 93-288, as amended by the Stafford Act. Public assistance grants are provided on a cost-share basis, with percentages established in the state-federal agreement, and a federal share of no less than 75 percent. The state of Missouri has traditionally paid a state share of 10 percent of the eligible expenses for local government entities.
DR-4490
President Trump Approves Governor Parson's Request for Major Disaster Declaration to Support Missouri's Coronavirus Response
Public Assistance under DR-4490 for COVID-19 Response
On March 26, a federal disaster declaration (DR 4490) for Missouri was approved to help support local governments and eligible nonprofits with reimbursements for emergency response costs (Category B). Public Assistance (PA) is a federal grant program administered by FEMA, and managed at the state level by SEMA. As a reimbursing, cost-share program, FEMA may reimburse approved applicants up to 75 percent of eligible costs. FEMA requires documentation that supports reimbursement of claimed costs. These incurred costs as a response to COVID-19 must be coded and captured separately from normal operation or activities that may utilize other funding sources. Proper procurement policies should meet or exceed the state and federal requirements as indicated by 2 CFR part 200. Thorough expense documentation is critically important to this reimbursement process.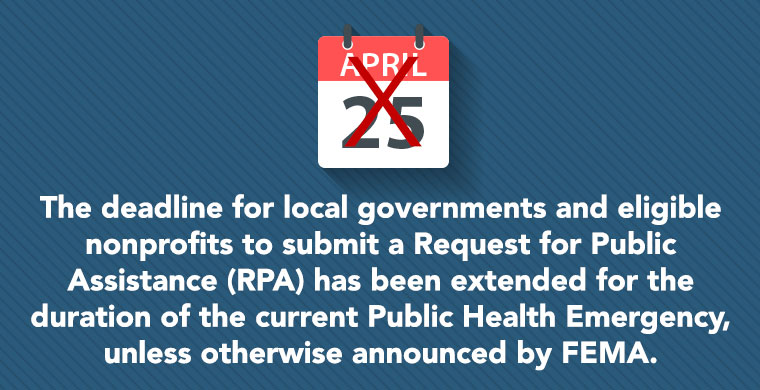 Information for participation:
Watch the Virtual Applicant Briefing for DR 4490 (Embedded video below)
Set up your jurisdiction into FEMA's Grants Portal as an applicant jurisdiction:

Submit a Request for Public Assistance, or RPA

Political sub-jurisdictions may submit an RPA through Grants Portal after your jurisdiction has been set up as an applicant jurisdiction.
Eligible Private Non-Profit organizations that provide critical services must apply using the RPA document available below (Necessary Documents, 1). Also, Private Non-Profit organizations must complete the PNP Forms.pdf file available below. Submit completed documentation to:
DR 4490 was declared on March 26, and typically applicants have 30 days from the declaration date to submit an RPA. However, due to the current COVID-19 crisis, this deadline has been extended for the duration of the public health emergency, unless otherwise noted by FEMA. SEMA recommends submitting an RPA as soon as possible.

All applicants must download and complete the State Forms document below (Necessary Documents, 4) and submit to SEMA.
Review FEMA's Public Assistance Program and Policy Guide (PAPPG); specifically, Category B.

Compile and collect data for your incurred costs, to date, as well as projected estimates for reasonable future costs related to COVID-19 response for upload into Grants Portal and project formulation. Collect primary source documentation like invoices, proofs of payment and applicable internal policy like your procurement policy. Summary spreadsheets may be used to organize information, but are not primary source documentation. Upload compiled data to Grants Portal for DR 4490 using the Streamlined Project Application.
Virtual Applicant Briefing (Review of this video is strongly encouraged for government entities and nonprofits if applying for FEMA assistance)
Necessary Documents
Applicant Briefings – A Key to the Public Assistance Process
Following a federal disaster declaration for Public Assistance, SEMA will schedule Applicant Briefings to inform eligible applicants in counties included in the declared counties with information about the Public Assistance process. Applicant Briefings are very important for applicants and required by FEMA to provide information about the Public Assistance program, and its rules and regulations. Potential applicants must note there is a 30 day deadline from the date of the disaster declaration to submit a federal request for Public Assistance to SEMA and for SEMA to process the requests for FEMA.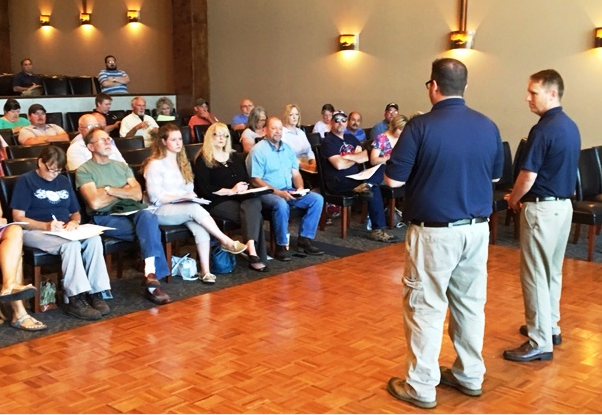 Most applicants have already begun repair work before the Applicant Briefings are held. They are still strongly encouraged to attend an Applicant Briefing to learn about program changes, eligibility information and to ensure their Federal Request for Public Assistance (RPA) is submitted in time to meet the 30-day submission deadline. If it is absolutely impossible for an organizational representative to attend any briefing and submit the RPA, the applicant can contact SEMA's Public Assistance program, which will work with them to submit their request.
Conducted by SEMA public assistance staff (FEMA representatives will be in attendance), the briefings walk applicants through the reimbursement process and explain how to determine eligible work, document progress, and submit Public Assistance applications.
Remember:
Applicant Briefing attendance is required to file an application for Public Assistance.
Each function in an applicant organization should be present for the applicant briefing to understand their role and responsibility in the process. These include senior officials, fiscal managers, administrative staff managers and the applicant's authorized representative.
Because documentation is a key – and often a misunderstood part of FEMA's Public Assistance program – anyone who will be involved in the documentation process should attend.
To expedite the process SEMA will accept signed notices of the intent to apply for Public Assistance at the Applicant Briefings.
FEMA may deny applications for assistance that are received past the 30-day deadline.
Most applicants have already started repairs before the Applicant Briefings. The key is that they document the damage and save all paperwork.

Take pictures of the damage.
Make sure you follow all of your organization's normal procedures, such as bids, contract approvals, signed contracts and invoices.
Keep copies of all these documents, because SEMA and FEMA will review them to determine whether you're eligible for reimbursement.
The applicant briefings will answer many of your questions, and a SEMA staff member will be assigned to each county to help with projects details. But if you have questions at any time, please contact SEMA Public Assistance Section Manager David Burgan at (573) 526-9378 or David.Burgan@sema.dps.mo.gov.
FEMA Recovery Scoping Meetings
After the Applicant Briefings, FEMA will hold what are called Recovery Scoping meetings (formerly called Kickoff Meetings), which are one-on-one meetings between each applicant and FEMA Public Assistance staff. FEMA generally requires that applicants identify and report all of its disaster-related damage, emergency work activities, and debris quantities to FEMA within 60 days of the Scoping Meeting.
FEMA Public Assistance Process Moving Forward
A combined federal/state/local team proceeds with "project formulation," which is the process of documenting the eligible facility, the eligible work, and the eligible cost for fixing the damage to every public or private nonprofit facility identified by state or local representatives. The team prepares a "Project Worksheet" based on actual costs or on the basis of an estimate for each project.
FEMA considers the state, through SEMA, to be the recovery grant recipient. Each local or private nonprofit recipient is considered a sub-grantee. Sub-grantees receive reimbursements for projects from FEMA through SEMA as work is performed. SEMA does not have access to the FEMA funds.
FEMA has seven categories of public assistance projects.
Public Assistance Projects Categories:
Category A: Debris removal
Category B: Emergency protective measures
Category C: Roads and bridges
Category D: Water control facilities
Category E: Public buildings and contents
Category F: Public utilities
Category G: Parks, recreational, and other facilities
A FEMA Public Assistance grant recipient may be approved for multiple projects involving some or all seven Public Assistance categories. FEMA handles projects differently based on scope and expense of the project. There are two types of projects.
Small Projects
Projects falling below a certain threshold (approximately $131,000 for 2020) are considered "small." The threshold is adjusted annually for inflation. For small projects, payment of the federal share of the estimate is made upon approval of the project and notification is required upon completion of the project.
Large Projects
For large projects, payment is made on the basis of actual costs determined after the project is completed, although interim payments may be made as necessary, or on the basis of an agreed upon estimate. The eligible applicant has the choice of how it wishes to receive the federal grant. Once FEMA obligates funds to the state, further management of the assistance, including disbursement to sub-grantees, is the responsibility of the state. FEMA will continue to monitor the recovery progress to ensure the timely delivery of eligible assistance and compliance with the law and regulations.
The federal share of assistance is not less than 75 percent of the eligible cost for emergency measures and permanent restoration.