SEMA News Release
FOR IMMEDIATE RELEASE
May 22, 2017
---
SEMA Flood Recovery Update Brief – Monday, May 22
---
Going on today:
The Missouri Department of Insurance representatives met with a total of 634 families at the 15 Multi-Agency Resource Centers held in areas affected by flooding. They provided flood assistance and insurance education about property and casualty insurance.
The Missouri Department of Economic Development reports the Missouri Housing Development Commission has awarded $328,000 in disaster assistance funding to its network of community action agencies serving flood-impacted counties.
MoDOT's Missouri's Traveler Information Map reached 1 million visitors and its Customer Service line received 8,000 to 11,000 calls per day (a typical weekday is 600 to 800 calls).

Currently, 21 state roads remain closed due to flooding. At the height of the flooding, 384 roads were closed, nearly 100 more than the 285 closures during the 2015 flood.

Joint Preliminary Damage Assessments for both Individual and Public Assistance have been completed.

Assessments were conducted in a total of 51 counties: 32 counties for both Public and Individual Assistance; 14 for Public Assistance only, and five counties for Individual Assistance only.
Information gathered during the assessments will form the basis of Gov. Greitens' planned federal disaster declaration request.

The MARCs may have closed, but United Way 211 remains the go-to source for 24/7 assistance with unmet flood recovery needs. Call 2-1-1 for assistance or reach 211 online at http://211helps.org. 

Missouri Recovery Photo of the Day
A public health nurse from the St. Louis County Health Department administers a tetanus vaccine. Following the flooding, the Department of Health and Senior Services coordinated the distribution of more than 2,200 doses of tetanus vaccine to flood-affected areas.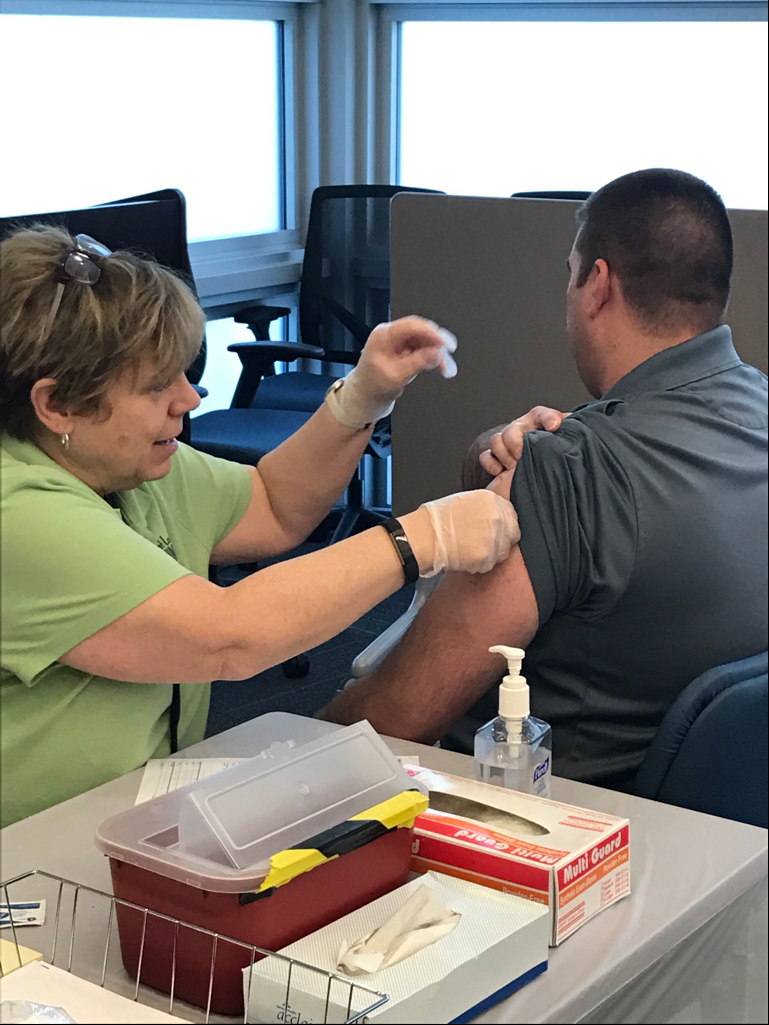 ---
For more information, call 573-751-5432 or e-mail mike.oconnell@dps.mo.gov