SEMA News Release
FOR IMMEDIATE RELEASE
July 26, 2017
---
SEMA Flood Recovery Update Brief – Wednesday, July 26
---
All FEMA Disaster Recovery Centers are now permanently closed. Flood survivors can still access many of the services provided at the recovery centers online at DisasterAssistance.gov or by calling 800-621-3362.
The Missouri Secretary of State's Office has awarded Carter County a $100,000 emergency grant to preserve records and documents submerged during the spring flooding. SEMA assisted the effort by having special equipment moved to the county courthouse to freeze-dry and decontaminate the documents immediately after the floodwaters receded.
Starting July 27, FEMA mitigation specialists will be at hardware and home improvement stores in two additional counties – Dent and Iron - to provide free information, answer questions and offer tips on how to repair and rebuild flood-damaged homes stronger and safer. Times, dates and locations are available at Recovery.mo.gov.
Missouri homeowners and renters have until Aug. 14 to apply for FEMA and SBA assistance in all 35 Missouri counties included in the federal disaster declaration for Individual Assistance. Survivors must register with FEMA to determine if they are eligible for federal assistance.
Missouri Recovery Photo of the Day
Missouri Department of Natural Resources staff survey flood debris on the Jacks Fork River, marking it for future removal. Because the debris poses significant safety risks, people are urged to be cautious during activities along and in waterways that may have been affected by flooding.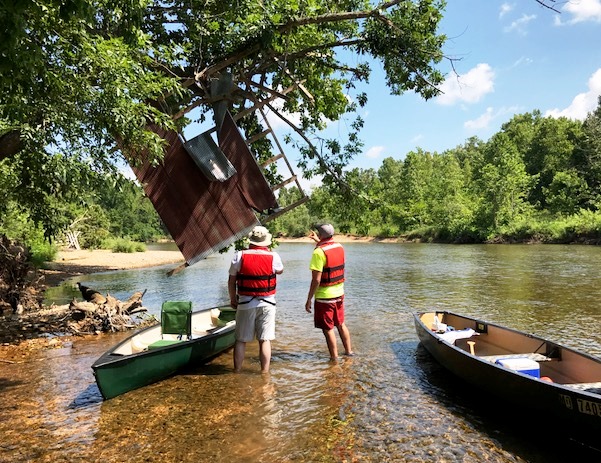 ---
For more information, call 573-751-5432 or e-mail mike.oconnell@dps.mo.gov