SEMA News Release
FOR IMMEDIATE RELEASE
May 15, 2017
---
SEMA Flood Recovery Update Brief – Monday, May 15
---
Going on today:
MARCs are open TODAY from 11 a.m. – 7 p.m. in Franklin and Oregon counties. Check the schedule for the four remaining MARCs in Gainesville (Ozark County) and House Springs (Jefferson County) on TUESDAY; Doniphan (Ripley County) on WEDNESDAY; and Arnold (Jefferson County) on THURSDAY here.
There are 10 SEMA/FEMA Disaster Assessment Teams working with local emergency managers to survey damage in preparation for a federal disaster declaration request from Gov. Greitens. Learn about the damage assessment process here.
Through Friday, more than 1,200 National Flood Insurance Program (NFIP) claims were being processed, representing almost $11.3 million in structural damage and almost $2.4 million in content losses in Missouri. Advance payments total over $2.5 million to meet the immediate needs of policy holders.
Missouri Recovery Media Coverage
'What were they thinking?' Drivers continue to die by testing flooded roads (from Associated Press)
Missouri Recovery Photo of the Day
This weekend, more than 100 volunteers from Missouri's Convoy of Hope helped with heavy duty cleanup and debris removal in Van Buren, in Carter County, Mo.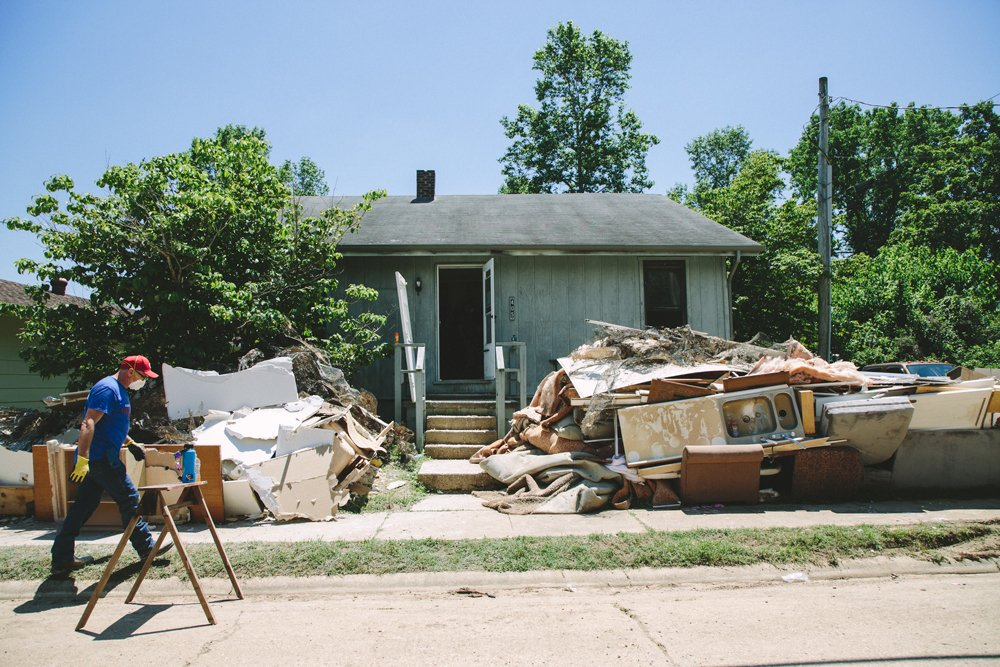 ---
For more information, call 573-751-5432 or e-mail mike.oconnell@dps.mo.gov