SEMA News Release
FOR IMMEDIATE RELEASE
August 14, 2017
---
SEMA Flood Recovery Update Brief – Monday, August 14
---
Don't miss out: Today is the deadline for homeowners, renters and businesses to apply for Individual Assistance from FEMA. More than 1,900 Missouri households have already been approved for over $12 million in assistance. Call FEMA's helpline at 800-621-3362, or visit www.DisasterAssistance.gov.
Today is also the deadline to file for a U.S. Small Business Administration low-interest disaster loan. Filing with FEMA also begins the SBA loan application process. SBA has approved almost $16 million in low-interest disaster loans.
Aug. 17 is the deadline for individuals who lost their jobs due to flooding in Christian, Crawford, Dent, Greene, Iron, Ste. Genevieve, Wayne and Wright counties to apply for Disaster Unemployment Assistance. File your claim through a Regional Claims Center, Monday-Friday, 8 a.m.-5 p.m., or online any time before the deadline. 
 
Missouri Recovery Photo of the Day
Today it is a graphic to emphasize the urgency of applying with FEMA by today's deadline for FEMA and SBA assistance for Missouri flood survivors.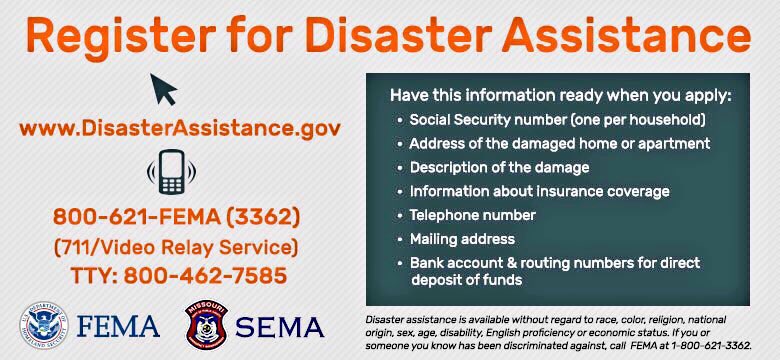 ---
For more information, call 573-751-5432 or e-mail mike.oconnell@dps.mo.gov