SEMA News Release
FOR IMMEDIATE RELEASE
June 09, 2017
---
SEMA Flood Recovery Update Brief – Friday, June 9
---
$19 million has been paid to Missouri flood survivors through the National Flood Insurance Program as a result of the disaster that began April 28. 34 percent of 1,277 claims filed by policyholders have been closed using expedited processing.
FEMA approved 425 applications for assistance from flood survivors through late Thursday night, June 8.
On June 9, Missouri Flood Recovery Coordinator Patrick Baker led the first meeting of the state's Recovery Support Workgroup, which is tasked with developing a statewide long-term disaster recovery plan. The workgroup includes representatives from more than 20 state agencies and affiliated programs with roles in disaster recovery.
FEMA opens two Disaster Recovery Centers on Saturday, June 10, in Arnold and Pacific. The DRCs will be open from 7a.m - 7 p.m. seven days a week. This is in addition to a recovery center open in Van Buren. The new locations are:

Arnold Police Department, 2101 Jeffco Blvd., Arnold, MO 63010
Tri-County Senior Center, 800 W. Union St., Pacific, MO 63069
Check Missouri's recovery page, Recovery.mo.gov, for locations and information about future recovery center openings. The site is updated regularly.

The Missouri Department of Social Services (DSS) is offering a Disaster Food Stamp Program to help flood-affected Missouri families in the 27 counties included in the Individual Assistance disaster area. Families currently receiving benefits, as well families typically not qualified for the program, may be eligible if they have property damage, loss of income, relocation, or loss of food due to flooding.

Applications can only be accepted during the week of June 12-16. Impacted families not currently on the Food Stamp Program must apply in person at a local DSS Family Support Resource Center. Center locations are available here. To verify identity, applicants need to bring a photo ID or two other documents, like utility bills or received mail. Families already receiving Food Stamp benefits can submit a "Disaster Food Stamp" form found at http://dss.mo.gov/recovery-information.htm.

To aid in the removal of debris from areas flood-impacted areas, the Missouri Department of Transportation will allow private and for-hire motor carriers to carry up to 10 percent more than their licensed weight on Missouri highways. However, the heavier loads are not allowed to use interstate routes. Overweight permits will not be required. All other normal traffic and motor carrier regulations  remain in place. This 60-day waiver begins Saturday, June 10, and will continue through Wednesday, August 9, 2017. More information is available here.
Missouri Recovery Photo of the Day
Crews work on reconstruction of State Route T in Wayne County on June 7. Flooding of Lake Wappapello washed away the road. Work is scheduled to be completed this summer.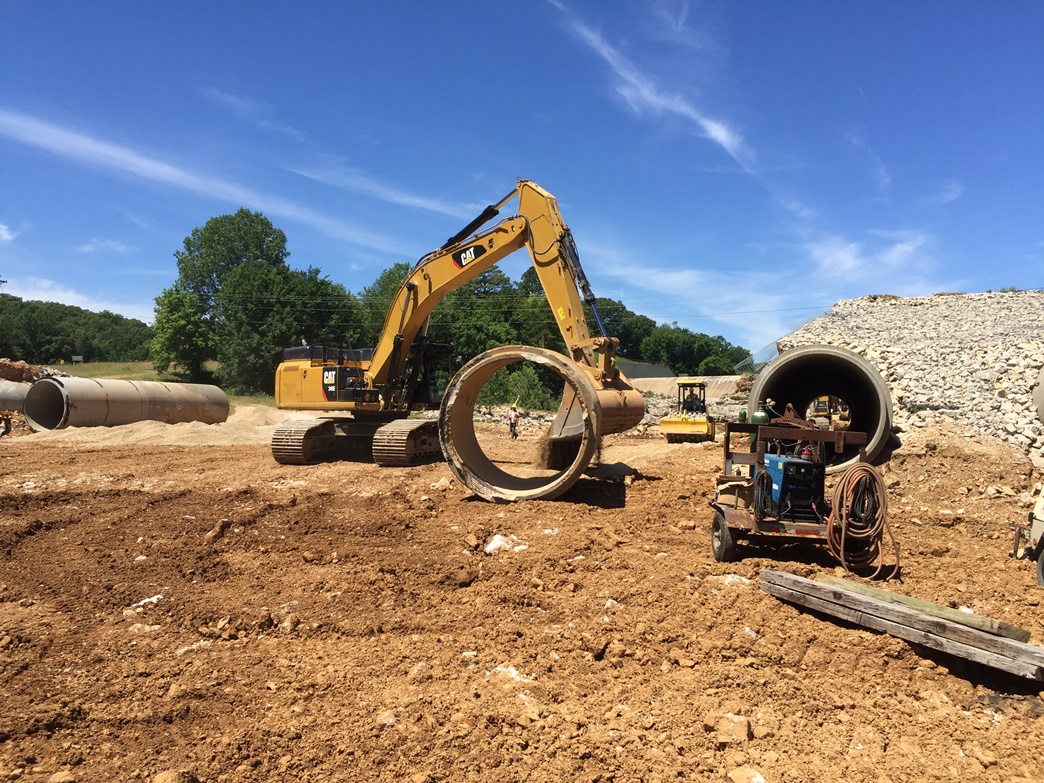 ---
For more information, call 573-751-5432 or e-mail mike.oconnell@dps.mo.gov