SEMA News Release
FOR IMMEDIATE RELEASE
June 13, 2017
---
SEMA Flood Recovery Update Brief – Tuesday, June 13
---
FEMA approved almost 900 applications for assistance from flood survivors through late Monday night, June 12. Flood survivors are encouraged to register for assistance as soon as possible at DisasterAssistance.gov or by calling 800-621-3362.
Six FEMA Disaster Recovery Centers are now open in Carter, Franklin, Howell, Jefferson, McDonald and Newton counties. Flood survivors are encouraged to register for assistance before going to a recovery center, but can register there, too. Operating hours and details on the recovery centers are available on Missouri's recovery website, Recovery.mo.gov. More DRC openings are expected this week.
There are still five Missouri state roads closed due to flood waters covering portions of the roadways (in St. Charles, Jefferson, Iron and Mississippi counties). MoDOT crews continue to monitor these roads, working to clean debris and check for damage as the water recedes.
The Missouri Department of Labor continues to take claims related to job losses due to flooding. Currently, more than 400 flood-related unemployment claims have been received. Learn more about how to file a claim here.
Friday is the deadline to apply for a special Disaster Food Stamp Program one-time benefit. Flood-impacted families not currently on the Food Stamp Program must apply in person at a local DSS Family Support Resource Center. Center locations are available here. To verify identity, applicants need to bring a photo ID or two other documents, like utility bills or received mail. Families already receiving Food Stamp benefits can submit a "Disaster Food Stamp" form found online here.
Missouri Recovery Photo of the Day
This May 5 photo shows the washed out Hammond Bridge over the N. Fork White River on Route CC at Dora in Ozark County. The 300-foot long bridge was built in 1975 and carried about 700 vehicles per day. MoDOT will hold a special letting next week seeking bids to rebuild the bridge.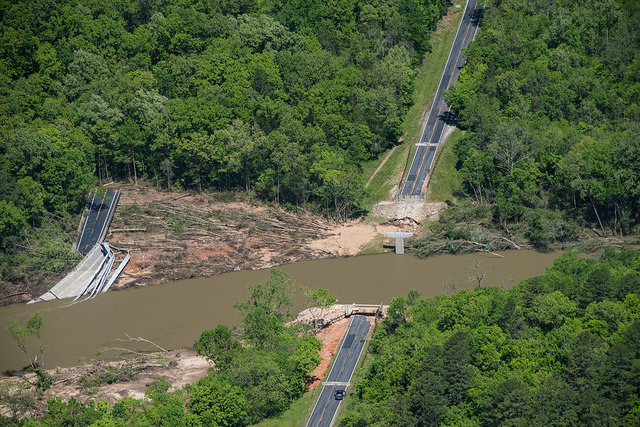 ---
For more information, call 573-751-5432 or e-mail mike.oconnell@dps.mo.gov