SEMA News Release
FOR IMMEDIATE RELEASE
June 05, 2017
---
SEMA Flood Recovery Update Brief – Monday, June 5
---
Going on:
On Monday, FEMA began approving the first applications for Individual Assistance for Missouri families. More than 400 Missouri families applied for FEMA assistance in the first 36 hours after the disaster was declared Friday evening.
FEMA Disaster Survivor Assistance teams were in seven counties Monday, helping flood survivors register for federal assistance: Carter, Franklin, Howell, Jefferson, Newton, Ripley and Taney counties.
The quickest way to register for assistance is at DisasterAssistance.gov, or call FEMA's toll-free number: 1-800-621-3362, 6 a.m. to 10 p.m. seven days a week. You'll need these to register:

 Phone number where you can be reached.
Your social security number.
Your current mailing address.
Address of the affected property.
Brief description of the damage.
Insurance information including your policy number.

SEMA and FEMA are identifying locations for Disaster Recovery Centers, where flooding survivors can go for help registering for assistance.

Assistance ranges from temporary housing and essential household items to medical and dental expenses not covered by insurance. Other programs include crisis counseling, legal assistance, income tax, Social Security and veterans' benefits. Details on obtaining low-interest SBA disaster loans wills also be available. 

The Missouri Department of Labor and Industrial Relations reports the disaster declaration allows Missourians in 27 affected counties, whose employment was lost or interrupted due to flooding from April 28-May 11, to apply for up to 26 weeks of Disaster Unemployment Assistance (DUA).

Call (800) 788-4002 for help filing a DUA claim. To file a claim, call your Regional Claims Center Monday-Friday, 8 a.m.-5 p.m., or go online here.
Missouri Recovery Photo of the Day
A FEMA Disaster Survivor Assistance representative meets with Franklin County emergency management officials before heading into neighborhoods to assist flood survivors register for FEMA assistance.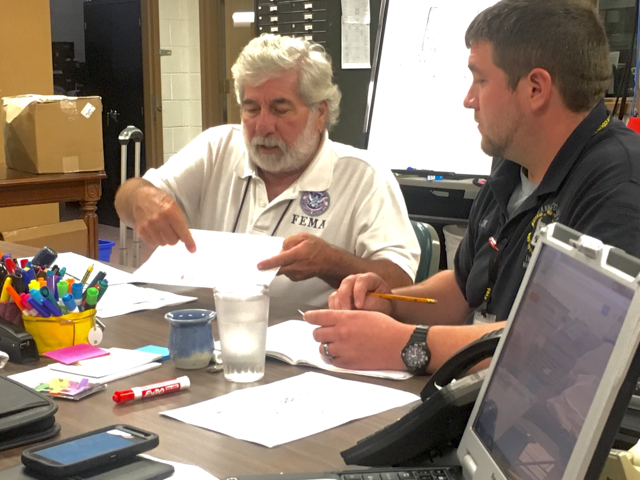 ---
For more information, call 573-751-5432 or e-mail mike.oconnell@dps.mo.gov