SEMA News Release
FOR IMMEDIATE RELEASE
February 25, 2019
---
Missouri's 39 flood deaths over last 4 years underscore extreme danger of vehicles and flooding – 87 percent of victims had been in automobiles
Missourians are encouraged to take action during Severe Weather Preparedness Week, which includes March 5 statewide tornado drill
---
A State Emergency Management Agency review of Missouri's 39 flood deaths over the last four years shows the vital importance of understanding the dangers of driving in areas experiencing flash flooding. Since 2015, 34 of Missouri's 39 flooding deaths – or 87 percent – were people who had been in vehicles.
"Missourians should keep in mind that flooding – particularly flash flooding – is Missouri's deadliest severe weather hazard and take action to make sure they're not putting themselves and their families at risk," State Emergency Management Agency Director Ron Walker said. "Remember that small creeks, streams and low-water crossings are the most dangerous places, and that you have to pay special attention for flood hazards because visibility is extremely reduced during heavy rains, especially at night."
In 2015, 11 people died across the state in a single night during torrential rains. All had been in vehicles.
In 2018, the one Missourian who died in flooding had been in a vehicle – a Greene County sheriff's deputy who drowned when his patrol car was washed off a road by floodwater during a storm. 
In 2017, all nine people who died in flooding in Missouri had been in vehicles. 
In 2016, there were two flooding deaths, with one involving a vehicle attempting to cross a flooded waterway.
In 2015, 23 of the 27 people who died due to flooding had been in vehicles.
From March 3 to 9, the National Weather Service, State Emergency Management Agency and local emergency managers urge Missourians to learn about severe weather and how to protect themselves during Missouri Severe Weather Preparedness Week. Missouri's annual Statewide Tornado Drill will be held on Tuesday, March 5 at 10 a.m. (Some Missouri communities may choose to conduct the drill on a different day due to conflicting local events.) 
At 10 a.m. on March 5, outdoor warning sirens and weather alert radios across the state will sound, signaling the beginning of the statewide tornado drill and indicating that Missourians should practice taking shelter. If a tornado shelter is not available, the safest shelter location is a windowless basement or an interior room in the lowest level of a building. Put as many walls between you and the tornado.
If severe weather is in the forecast for March 5, the tornado drill will be moved to Thursday, March 7 at 10 a.m.
According to the National Weather Service, Missouri experienced 47 tornadoes with one death and seven injuries in 2018. In 2017, there was one death and 32 injuries due to tornadoes. There were no tornado deaths in 2016 and no injuries. In 2015, there were no tornado deaths and five injuries. Information on tornadoes is available here: https://www.weather.gov/safety/tornado
NWS provides safety tips and educational information about tornadoes, severe thunderstorms, flash flooding, lightning and the importance of NOAA Weather Radios on its Severe Weather Awareness Week page: https://www.weather.gov/lsx/severeweek.Each day during the week focuses on a different safety message: Monday, March 4, Have a Plan/Receive Weather Information Day; Tuesday, March 5, Tornado Safety Day; Wednesday, March 6, Lightning Safety Day; Thursday, March 7, Hail/Wind Safety Day; and Friday, March 8, Flood Safety Day.
Never expect barriers to block off flooded low-water crossings or bridges because floodwaters often rise so quickly authorities cannot close a road in time.
Some motorists never see the high water until it's too late because of poor visibility due to darkness or heavy rain.
Be alert for high water whenever flash flooding is forecast. Slow down when visibility is limited.
Never drive into standing water. It can take less than six inches of fast-moving water to make a slow-moving car float. Once floating, a vehicle can overturn and sink.
If you wind up in flood water and your vehicle stalls, leave it immediately and seek higher ground. Rapidly rising water may engulf the vehicle and sweep it away.
More information can be found on Missouri's Stormaware.mo.govwebsite, which includes detailed videos about how to take shelter from tornadoes in specific locations, how to avoid flash flooding and useful information about tornado sirens, and weather alert radios. Missourians are also encouraged to utilize Missouri's Ready in 3 program to create a plan, prepare a kit, and listen for information regarding severe weather emergencies. https://health.mo.gov/emergencies/readyin3/
Please contact your local NWS office for interviews about Severe Weather Preparedness Week or for additional information:
St. Louis: (636) 441-8467
Kansas City: (816) 540-6021
Springfield: (417) 869-4491
Paducah, Ky.: (270) 744-6440
Memphis,Tenn: (901) 544-0401
Davenport, Iowa: (563) 388-0672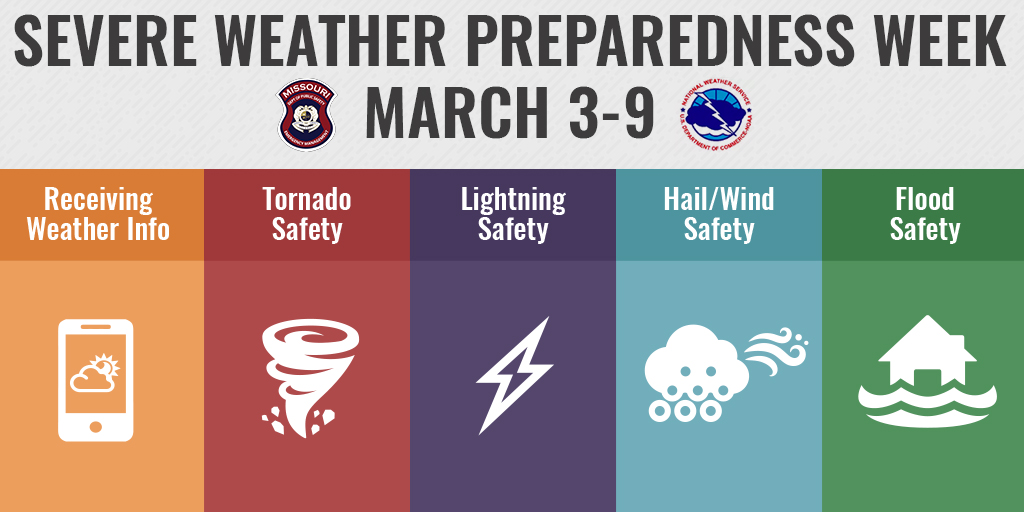 ---
For more information, call 573-751-6294 or e-mail caty.luebbert@sema.dps.mo.gov