SEMA News Release
FOR IMMEDIATE RELEASE
July 20, 2017
---
SEMA Flood Recovery Update Brief – Thursday, July 20
---
Three FEMA Disaster Recovery Centers are now operating in Cuba, Springfield and Greenville to assist Missouri flood survivors. They are staffed not only by FEMA but by U.S. Small Business Administration representatives. The Cuba recovery center closes July 22, Springfield closes July 24 and Greenville July 25. Don't miss your chance to get in-person assistance. Find operating hours and recovery center locations at Recovery.mo.gov.
Remember, most of the services provided at the recovery centers are also available at DisasterAssistance.gov or 800-621-3362.
Missouri homeowners and renters now have until Aug. 14 to apply for FEMA and SBA assistance in all 35 Missouri counties included in the federal disaster declaration for Individual Assistance. 
SEMA held applicant briefings for local government agencies and nonprofits today in Columbia and Sikeston. The briefings are for potential applicants from Boone, Cape Girardeau, Mississippi, New Madrid, Pemiscot, Ste. Genevieve and Scott counties, which were designated July 13 by FEMA for inclusion in the Public Assistance disaster declaration. The program assists with recovery expenses for damage to roads, bridges, other public infrastructure and emergency response costs. The deadline for public entities to submit applications for FEMA assistance is Aug. 12.
Disaster Unemployment Assistance is available to workers who lost employment due to flooding in the eight counties designated for Individual Assistance as part of the flooding disaster declaration on July 13. Those counties are Christian, Crawford, Dent, Greene, Iron, Ste. Genevieve, Wayne and Wright. Unemployed workers have until Aug. 17 to apply for DUA at Labor.mo.gov/disaster.
Missouri Recovery Photo of the Day
The Rockwood School District is confident the new floor of Eureka High School's Gymnasium will be ready for the new school term on Aug. 15. The floor was destroyed by Meramec River floodwater on May 2. This photo was taken July 19.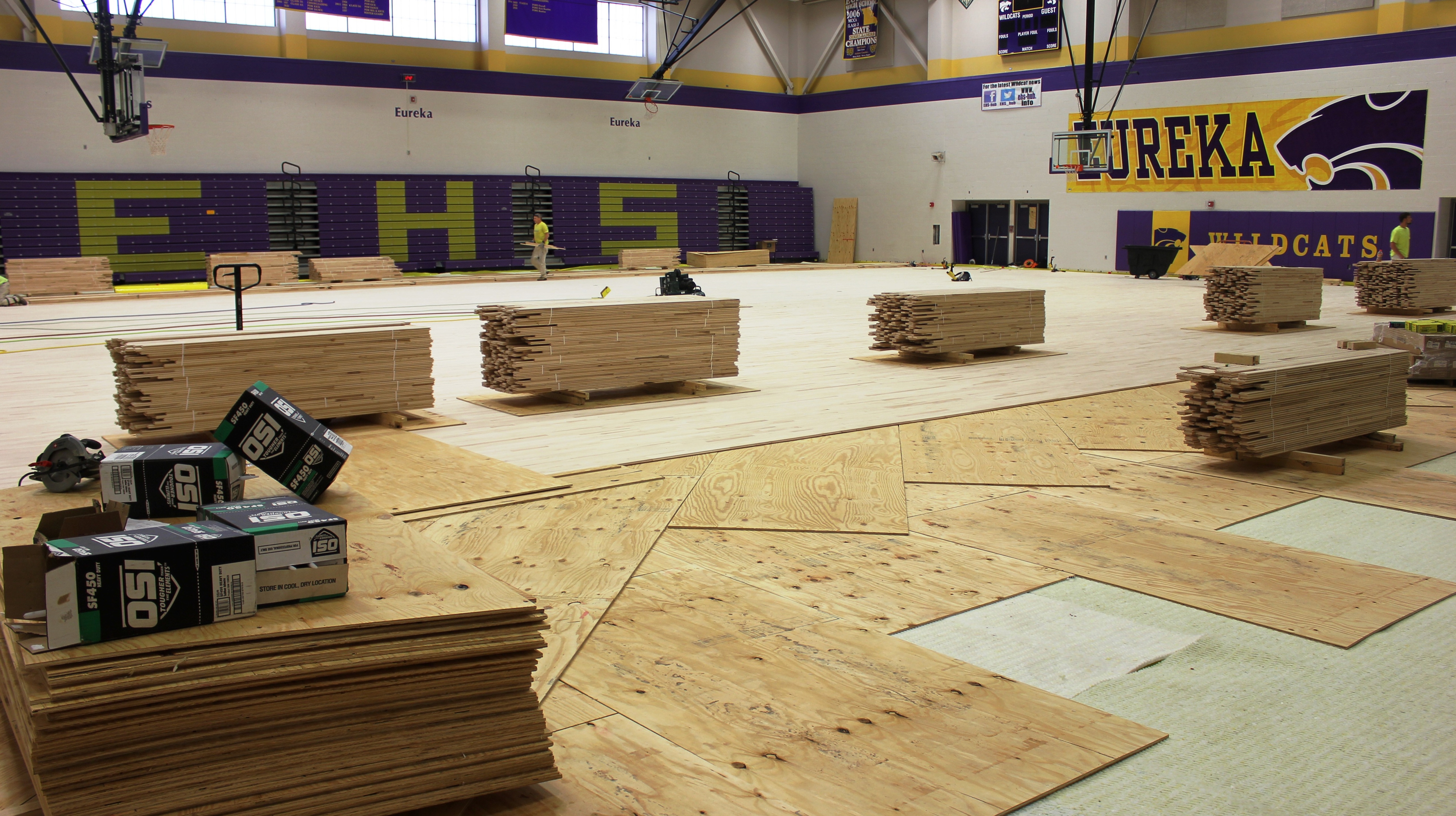 ---
For more information, call 573-751-5432 or e-mail mike.oconnell@dps.mo.gov