SEMA News Release
FOR IMMEDIATE RELEASE
May 24, 2017
---
SEMA Flood Recovery Update Brief – Wednesday, May 24
---
Going on today:
The Missouri Division of Fire Safety's Equipment Donation Program assisted in the donation of 16 sets of firefighter gear from the Antonia Fire Protection District to the Thomasville Fire Department, 150 miles away. Thomasville lost three fire trucks and the contents of its fire station when the Oregon County town was swamped by Eleven Point River floodwaters on April 29. Read more here.
Dozens of teams of Baptist disaster response volunteers continue to assist with everything from mud-outs to preparing hot meals from Neosho to Arnold, according to The Pathway. Hundreds of volunteers from Missouri and nine other states are coordinated at a Jefferson City command center. Read more here.
The Missouri Department of Economic Development, reports AmeriCorps and volunteer groups are helping remove debris, clean and repair flooded homes, as well as assisting residents with other recovery needs. A total of 639 requests for clean-up assistance have been received by United Way 211. Remember, if you need assistance call 2-1-1, which is available 24/7 throughout Missouri.
Visit Mo.gov/flood for more flood recovery resources. The site is updated daily.
Missouri Recovery Photo of the Day
​Darrell Pratte, Missouri Department of Agriculture, delivered over 1,400 survey records to Pauline Peterman, Carter County Recorder, to replace documents destroyed in the flood. Some documents date back to the 1880s and preserve the county's property line development. Surveys establish land corners, which are dependable references for identifying property boundaries.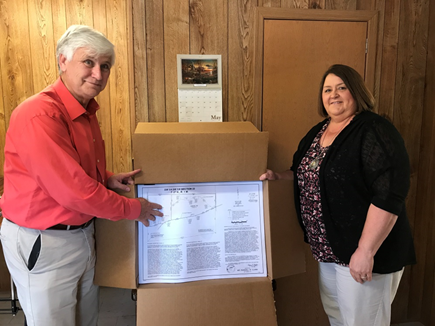 ---
For more information, call 573-751-5432 or e-mail mike.oconnell@dps.mo.gov