SEMA News Release
FOR IMMEDIATE RELEASE
June 01, 2017
---
SEMA Flood Recovery Update Brief – Thursday, June 1
---
Going on today:
Patrick Baker was introduced as Missouri's Flood Recovery Coordinator on a media conference call this morning with members of Gov. Eric Greitens' State flood recovery team. Baker comes from Lt. Governor Mike Parson's Office. This is the first time a Missouri Governor has appointed a disaster recovery coordinator before a federal disaster declaration has been issued. "While the flooding has had a devastating impact on Missouri communities, our state team is already leaning forward across departmental lines to ensure we do everything we can to support recovery and rebuilding," Baker said. "Missourians are resilient and determined, and working as a team I am confident we'll build communities stronger for the future."
Final tabulations show that a total of more than 1,400 households were served during the 15 Multi-Agency Resource Centers (MARCs) held in flood-impacted communities across the state. This was the most MARCs ever held for a single disaster in Missouri, and the most people served.
Flooding in Arkansas that began April 1 means U.S. Small Business Administration low-interest economic injury disaster loans are now available to small non-farm businesses in eight Missouri counties that are contiguous to Arkansas.

The loans are available in Barry, Butler, Dunklin, Oregon, Pemiscot, Ripley, Stone, and Taney counties. SBA assistance information and applications are available online here.

Visit Recovery.mo.gov for more flood recovery resources. The site is updated daily.
United Way 211 is the go-to source for 24/7 assistance with unmet flood recovery needs. Call 2-1-1 for assistance or contact 211 online at http://211helps.org. 
Missouri Recovery Photo of the Day
Members of Missouri's State flood recovery team meet before a conference call with reporters Thursday. From left are Ernie Rhodes, SEMA director; Ron Broxton, SEMA Recovery Branch manager; Drew Juden, Department of Public Safety director; Patrick Baker, Missouri Flood Recovery Coordinator; Mike Downing, Department of Economic Development director; Amy Susan, DED communications director; Sallie Hemenway, DED Business and Community Services Division director; Ryan Burns, Office of Administration communications director (obscured); Drew Erdmann, State of Missouri Chief Operating Officer.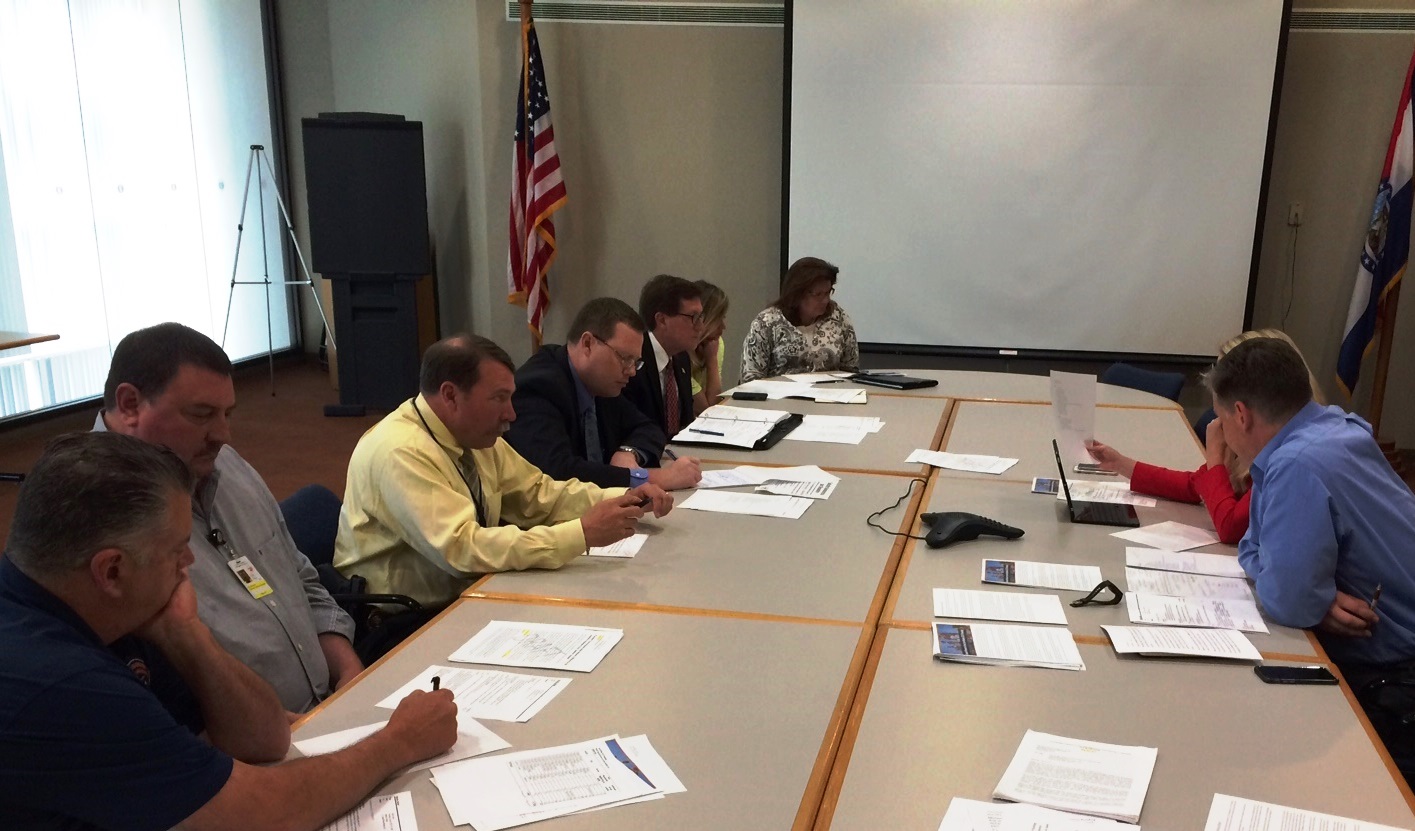 ---
For more information, call 573-751-5432 or e-mail mike.oconnell@dps.mo.gov