SEMA News Release
FOR IMMEDIATE RELEASE
June 12, 2017
---
SEMA Flood Recovery Update Brief – Monday, June 12
---
Three new FEMA Disaster Recovery Centers are opening tomorrow, June 13, in Howell, Newton and McDonald counties. Details on the new locations and the three existing recovery centers in Carter, Franklin and Jefferson counties are available at Recovery.mo.gov. Survivors don't need to go to a DRC for assistance, but are encouraged to register as soon as possible at DisasterAssistance.gov or call 800-621-FEMA (3362). A FEMA app for smartphones is also available.

Howell County DRC
West Plains Civic Center
110 Saint Louis St.
West Plains, MO 65775
McDonald County DRC
First Baptist Church
One Friendship Lane
Anderson, MO  64831
Newton County DRC*
Lampo Center
500 East Spring Street
Neosho, MO 64850
*Unlike the other DRCs, which are open seven days a week, the Newton County location is only open Monday-Friday.
Applications for Missouri Disaster Food Stamp Program can only be accepted Monday-Friday of this week, June 12-16. Impacted families not currently on the Food Stamp Program must apply in person at a local DSS Family Support Resource Center. Center locations are available here. To verify identity, applicants need to bring a photo ID or two other documents, like utility bills or received mail. Families already receiving Food Stamp benefits can submit a "Disaster Food Stamp" form found online here.
MoDOT reports a total of 10 state roads in Douglas, Iron, Jefferson, Mississippi, Perry, Pike, St. Charles, Shannon, and Wright counties are still closed because they are under water. In addition, 3 roads are closed due to bridge washouts, 3 roads are closed due to pavement damage, 1 road is closed due to a slide, and 3 roads are down to one lane of traffic due to pavement damage from a slide. For updated state road closure information, check MoDOT's Traveler Information Map here.
Missouri Recovery Photo of the Day
MoDNR staff and a contractor recover containers "orphaned" by flooding on the Meramec River in St. Louis County. MoDNR handles removal and disposal of the containers, which may contain hazardous chemicals, to protect Missourians and the environment.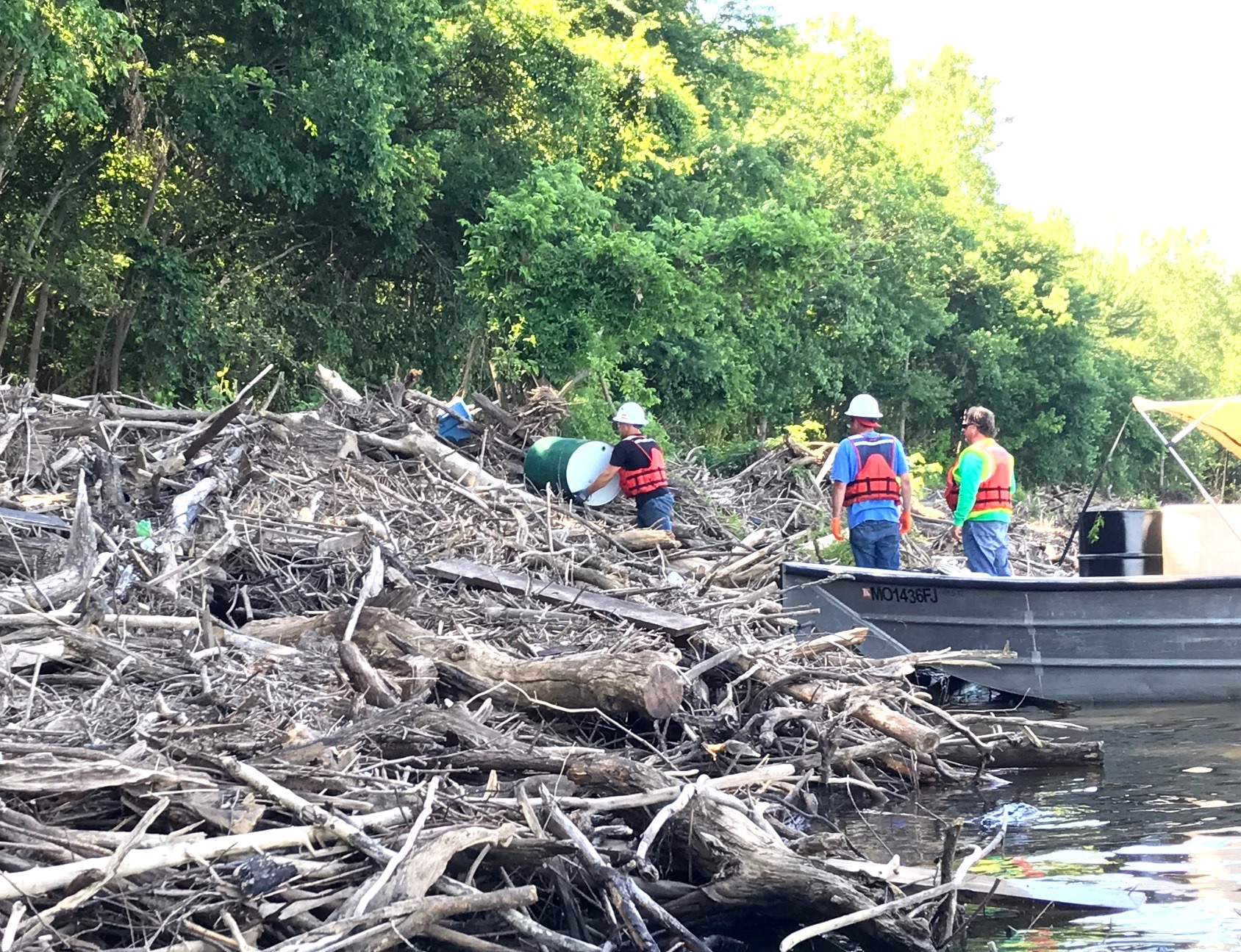 ---
For more information, call 573-751-5432 or e-mail mike.oconnell@dps.mo.gov