SEMA News Release
FOR IMMEDIATE RELEASE
May 25, 2017
---
SEMA Flood Recovery Update Brief – Thursday, May 25
---
Going on today:
Missouri's request for a federal major disaster declaration was amended this morning to include St. Louis County in the request for Public Assistance for repairs to damaged public infrastructure and flooding response costs. Yesterday, Gov. Eric Greitens requested the federal disaster declaration for assistance to a total of 51 Missouri counties. St. Louis County was already included among the counties for which Individual Assistance was requested. Individual Assistance is for homeowners and renters who sustained losses due to the flooding.
The Missouri Department of Elementary and Secondary Education has acted to assist dozens of school districts affected by the flooding by:

Granting forgiveness waivers to 47 school districts for missed days of school. Districts requested waivers for anywhere from one to 10 days of missed school.
DESE extended the MAP testing window for school districts impacted by flooding.

The Department of Social Services encourages flood survivors who have lost food purchased with food stamp benefits to contact the Family Support Division by May 31 to replace lost benefits. Call 1-855-373-4636 or follow this link for more information.
Remember, if you need assistance call 2-1-1, which is available 24/7 throughout Missouri.
Visit Mo.gov/flood for more flood recovery resources. The site is updated daily.
Missouri Recovery Photo of the Day
AmeriCorps St. Louis teamed up with Home Depot to help families in Bull Creek, near Branson, clean up and repair properties that sustained significant damage during the flooding.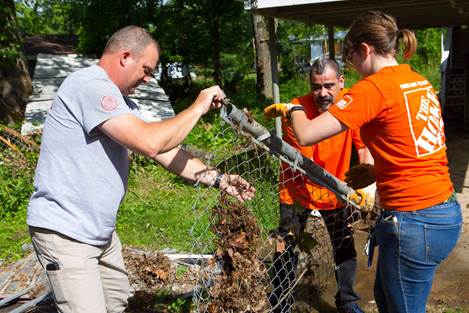 ---
For more information, call 573-751-5432 or e-mail mike.oconnell@dps.mo.gov