SEMA News Release
FOR IMMEDIATE RELEASE
May 31, 2017
---
SEMA Flood Recovery Update Brief – Wednesday, May 31
---
Going on today:
Missouri farmers impacted by the early April storms and flooding can receive emergency loan assistance through the USDA's Farm Service Agency.

The assistance is available in Barry, Butler, Dunklin, Oregon, Pemiscot, Ripley, Stone, and Taney counties. More information is available here.

MoDOT employees logged more than 80,000 hours from April 28 to May 31 responding to flooding issues.

Replacements are being designed for three bridges that washed out in the flooding in Ozark and Pulaski counties. Construction will begin this summer.

SEMA is working with local Community Organizations Active in Disasters (COADs) to ensure flood survivors' recovery needs are being met.
Visit Mo.gov/flood for more flood recovery resources. The site is updated daily.
United Way 211 is the go-to source for 24/7 assistance with unmet flood recovery needs. Call 2-1-1 for assistance or contact 211 online at http://211helps.org. 
Missouri Recovery Photo of the Day
Local volunteers, including several high school students, help distribute bottled water, packaged food and other basics to flood survivors from Ripley County's donations management center at the county fairgrounds in Doniphan.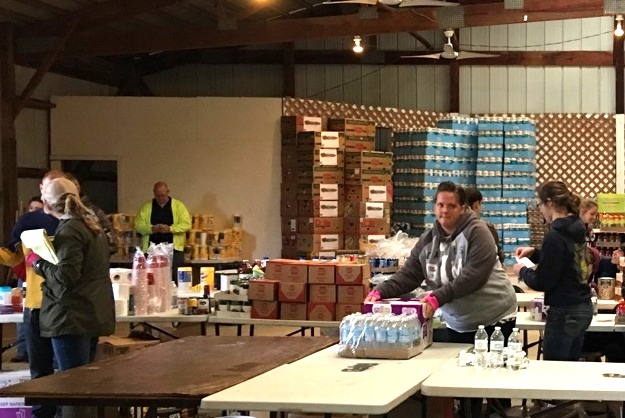 ---
For more information, call 573-751-5432 or e-mail mike.oconnell@dps.mo.gov