SEMA News Release
FOR IMMEDIATE RELEASE
June 14, 2017
---
SEMA Flood Recovery Update Brief – Wednesday, June 14
---
FEMA has approved almost 1,000 applications for assistance through late Tuesday night. Flood survivors are encouraged to register for assistance as soon as possible at DisasterAssistance.gov or by calling 800-621-3362.
Dozens of flood survivors each day are signing up for the Missouri Disaster Food Stamp Program, but the deadline is Friday, June 16. Impacted families not currently on the Food Stamp Program must apply in person at a local DSS Family Support Resource Center. Center locations are available here. To verify identity, applicants need to bring a photo ID or two other documents, like utility bills or received mail. Families already receiving Food Stamp benefits can submit a "Disaster Food Stamp" form found online here.
FEMA Disaster Recovery Centers are opening Thursday, June 15 in Taney and Phelps counties. The recovery centers will be open from 7 a.m. to 7p.m. Six other DRCs remain open in Carter, Howell, Franklin, Jefferson, McDonald and Newton counties. Hours and locations are available on the Missouri Recovery website: Recovery.mo.gov.   

Taney County DRC
Branson's Sanctuary of Hope
1790 Bee Creek Rd.
Branson, MO 65616
Phelps County DRC*
Phelps County Courthouse Annex
Court House
200 North Main Street
Rolla, MO 65401
*Please note: The Phelps County DRC will close at 7 p.m. on Monday, June 19.
Missouri Recovery Photo of the Day
A FEMA employee sets up a Disaster Recovery Center in Neosho's Lampo Center, in Newton County, on Monday, June 12. Six DRCs are currently in operation, two more open on Thursday, June 15.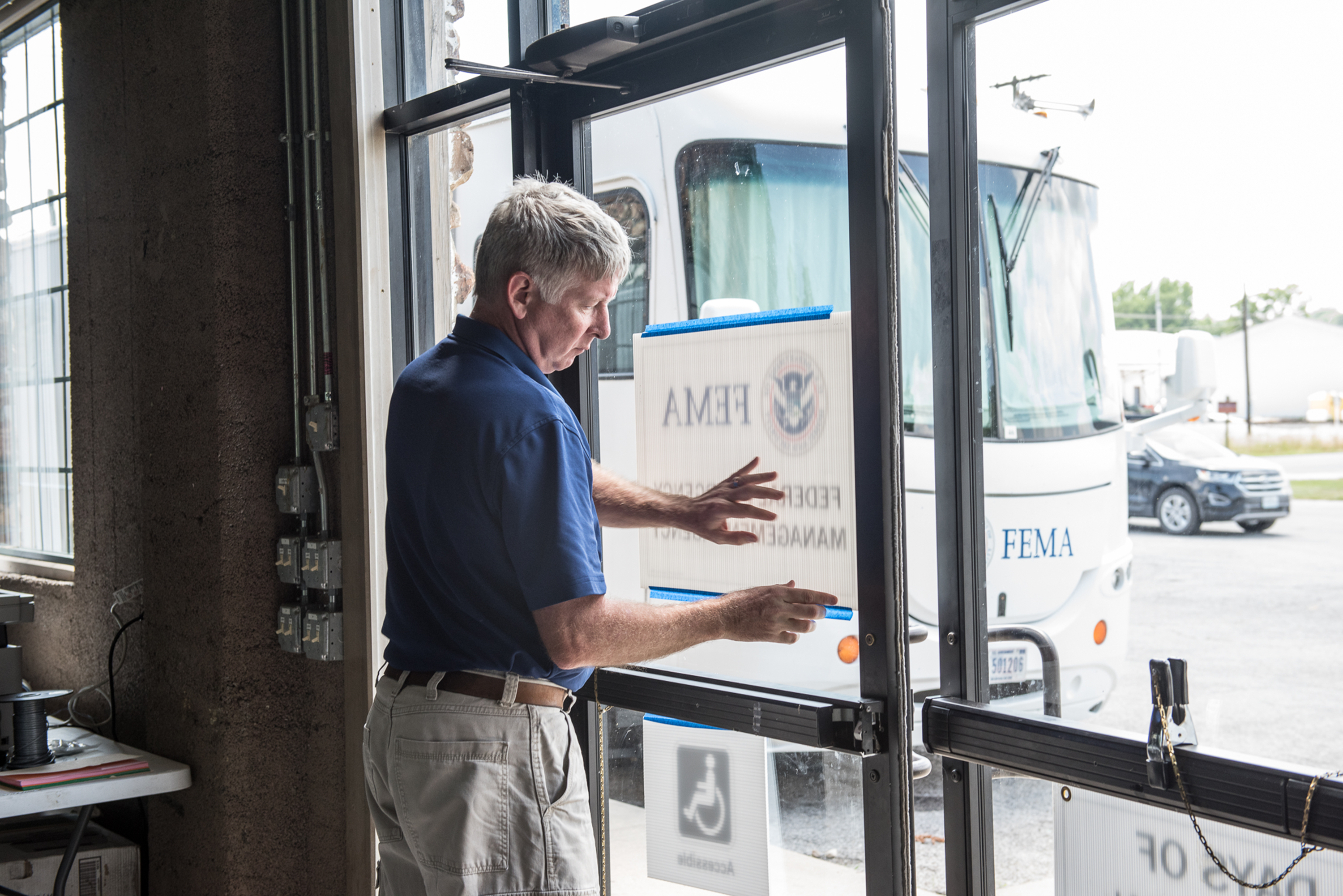 ---
For more information, call 573-751-5432 or e-mail mike.oconnell@dps.mo.gov