Missouri Disaster Chaplaincy Program (MDCP)
Vision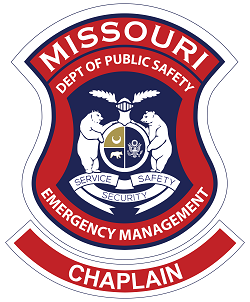 To coordinate and support the identification, deployment, transportation, and demobilization of chaplain resources during response activities to restore healthy and whole conditions to communities, while caring for the ill, injured, and bereaved affected by disasters throughout Missouri.

MDCP Chaplains will Maintain Standards of Professionalism with Integrity
Recognize that spirituality is an essential part of humanity and nurturing spiritual needs contributes to holistic healing.
Maintain the confidentiality of all disaster survivors with whom they come into contact.
Never engage in proselytizing.
Never use their position, influence, knowledge, or professional affiliation for personal, political, or organizational gain.
Refrain from saying or implying the delivery of services are tied to the embracing or acceptance of a particular religious or political creed.
Recognize the vulnerability of all people impacted by disaster and trauma and avoid exploiting the imbalance of power between disaster responders and those receiving care.
Ensure professional boundaries are in place to protect clients, including interaction with children, youth, and vulnerable adults.
MDCP Chaplains will Serve Others with Respect
Recognize the critical importance of local houses of faith within communities and will not usurp their primacy in their communities.
Honor all faiths and cultures within communities, including culture, gender, age, sexual orientation/identification, disability or other access and functional need, spiritual and religious practices and beliefs.
Respect diversity in all forms, recognizing the right of everyone to hold their existing values and traditions.
Refrain from manipulation, disrespect, or exploitation of those impacted by disaster and trauma.
Respect the freedom of individuals from unwanted gifts of religious literature or symbols; evangelistic and sermonizing speech, forced acceptance of specific moral values and traditions.
MDCP Chaplains will Serve Alongside Others in a Spirit of Teamwork
Act as willing and effective partners with behavioral health disaster providers, engaging in reciprocal referrals for services for survivors in need.
Provide emotional and spiritual care to responders and caregivers, as needed.
Ensure absolute adherence to standards rejecting violence against any group.
Recognize their own personal and professional limitations.
Serve as volunteers and not expect or demand remuneration for services.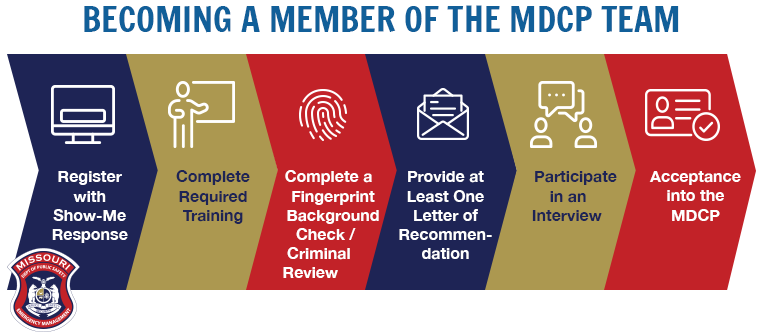 The Missouri State Emergency Management Agency (SEMA) is always looking for dedicated volunteers to provide care for the ill, injured, and bereaved during disaster events. There are several steps involved in joining the MDCP team:
Register with Missouri Show-Me Response

Show-Me Response (SMR) is a web-based volunteer registration system administered by the Missouri State Emergency Management Agency. SMR integrates local, regional and statewide volunteer programs to assist emergency response and public safety organizations during a disaster. It is part of a national initiative to coordinate and mobilize volunteers to respond to all types of emergencies.

Complete Required Training

To ensure uniform standards across the Program, MDCP members are required to complete the following coursework:

Psychological First Aid (PFA)
Critical Incident Stress Management (CISM)

Complete a Fingerprint Background Check / Criminal Review

Prospective members must register via www.machs.mo.gov, and complete the required fingerprinting background check. If you are already a SEMA employee, representing the Missouri Disaster Medical Assistance Team (DMAT) or the Missouri Mortuary Operations Response Team (MOMORT), you do not need to complete an additional fingerprint background check.

Provide at Least One (1) Letter of Recommendation

The letter may be submitted by the applicant as part of the application package, or sent directly to the Program Administrator by the author.

Interview

Exceptional candidates will be contacted for an interview. The interview panel will consist of the Lead Chaplain, the Program Coordinator, the Program Planner, and potentially other MDCP Members.

Applicants may be assessed based upon these non-exhaustive criteria:

Education
Completion of Required Training
Certification from organization and/or denomination
Clinical Pastoral Education (healthcare chaplaincy)
Law enforcement or fire fighter chaplaincy certification and verification
Letter(s) of recommendation
State of Missouri background check (fingerprint based search), unless already employed by SEMA
Family Care Safety Registry search
National Sex Offender Public Website search

Acceptance into the MDCP

Once you have been accepted into the MDCP, you will be issued an official, photo-identification badge. The badge will:
Identify you as a member of a recognized volunteer organization;
Provide you with access to the worksites to support the emergency response;
Remain the sole property of SEMA and shall be returned upon your resignation or termination.
What to expect as a member of MDCP
You may have the opportunity to participate in exercises and drills conducted at the regional and state level. Exercise opportunities will be announced by SEMA Program Staff, or the Lead Chaplain. All MDCP members are encouraged to actively participate in available exercises.
Activation and Deployment
When a request is made for chaplains, a list of volunteers will be generated based on geography and scope of the incident and coordination will occur through Emergency Support Function (ESF) #6 – Mass Care. You will receive notification asking for your availability to respond. This notification will reach you via phone call and/or text messaging. Information you will be given includes:
The nature and scope of the event
The location of the event or staging area
The anticipated activities to be performed
Specific skills needed
Types of Activations
Mass casualties
Mass fatalities
Disasters that affect life and property (i.e. flooding, tornadoes, earthquakes)
Natural and man-made disasters
Non-emergency support

Community education and outreach
Recruitment activities
Special projects
Logistics support
Deployment Roles and Missions
Serve as a Community Liaison to faith-based organizations
Provide support to the Missouri Disaster Medical Assistance Team (MO DMAT-1) during deployments
Provide support to the Missouri Mortuary Operations Response Team (MO MORT-1) during Morgue and Victim Information Center (VIC) Operations
Join/Assist the Behavioral Health Strike Team supporting victims and families, coordinated by the Missouri Department of Mental Health (DMH)
Provide support to disaster workers and leadership staff
Learn more about serving the people of Missouri as a member of the Disaster Chaplaincy Program.
How to Help
We are always looking for volunteer chaplains throughout the state of Missouri. For more information about how you can get involved and join the team, please contact:
Mark Pethan, PHEP/HPP Grant Administrator
Stephen Lyczak, Preparedness Planner Program Specialist
Gretchen Werner, Preparedness Administrative Assistant