SAVE Coalition Launched its Largest Deployment After Joplin Tornado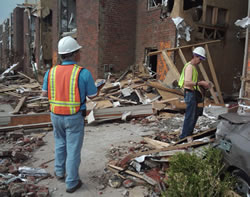 In the largest deployment in its nearly 25-year history, the SAVE Coalition deployed more than 60 volunteer engineers, architects and building inspectors to Joplin to assist after the May 22, 2011 EF-5 tornado. Thousands of homes, businesses, schools, and other facilities were damaged or destroyed. The group assisted Joplin's Building and City Code Division, conducting safety inspections on nearly 8,000 damaged structures.
Two days after the tornado, city officials contacted SEMA for assistance with inspecting damaged buildings. Less than 12 hours later, SAVE Southwest Regional Coordinator Bud Rodgers met with city officials, quickly surveyed the damage area and began planning SAVE's deployment.
Prepared to Help
When the SAVE volunteers arrived, Joplin's building and code staff was ready to support the inspectors' efforts. The city provided detailed maps of the damaged areas, designated space for a SAVE command center, administrative staff support and arranged for the volunteers' lodging.
SAVE volunteers completed their inspections in just three days, donating a total of more than 1,000 hours in the process. Working from May 26 to 28, coalition members conducted exterior-only inspections on tornado-damaged buildings to identify any structural problems that posed life-safety threats. Included in the inspections were residential, commercial and public buildings. Damage ranged from total destruction to broken windows and other minor issues. Of the inspected buildings, about 36 percent were found to be unsafe, six percent were approved for restricted use and 58 percent were deemed safe.