Earthquake Exercise Focuses on Structural Safety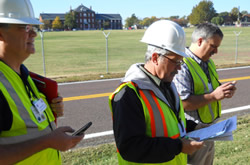 Many buildings in eastern and southern Missouri could sustain major damage if a large earthquake strikes the state. To prepare, structural experts from across the region exercised their response to a massive earthquake Oct. 16-17, 2015 at Jefferson Barracks in south St. Louis County. The exercise was led by the Missouri Structural Assessment and Visual Evaluation (SAVE) Coalition, a group of volunteer engineers, architects and building inspectors trained to quickly determine which buildings are safe to use and which should be evacuated after a disaster.
"A major earthquake is the worst-case scenario for structural damage, so it's important that our volunteers are ready to handle it," said Ben Ross, SAVE Coalition board chairman. "More than 200 people turned out for this exercise – it's the largest we've ever conducted. We learned a lot and I'm convinced we're much better prepared for a major disaster such as an earthquake."
In addition to Missouri SAVE volunteers, the exercise drew participants from across the New Madrid Seismic Zone, as well as experts from around the country. Assessment teams from Indiana and Arkansas deployed to St. Louis for the event, as did U.S. Army Corps of Engineers assessment experts from Alaska, California, New York and South Carolina. The Missouri National Guard hosted the event and provided logistics support.
The exercise utilized old, unreinforced masonry buildings because of their vulnerability to collapse in an earthquake. SAVE inspectors conducted rapid assessments of the buildings and assigned them colors – green meaning that the building is safe to enter, yellow meaning the building is safe to enter briefly but not to occupy, and red meaning the building is severely damaged and cannot be entered.
In a real emergency, placards with these colors would be posted on each building to let residents know the safety status of their structures.
New Technology Tested
The exercise was also an opportunity to test new technology. A GIS-based smartphone app, referred to now as the Safety Assessment App, was used for the first time during the exercise. The app allows inspectors to enter assessment data for each structure directly into their phones, assign the rating color and attach photos and notes regarding the assessment. These results are then submitted directly to the operations center, where results for an entire area can be displayed immediately for updates and decision-making by elected officials.
The Safety Assessment App was created by the Central U.S. Earthquake Consortium (CUSEC) for a trial run at the exercise, in hopes of refining it and making it available nationwide for emergency building assessments.
"This was a great opportunity for us to test the new Safety Assessment App in a real-world simulation," said CUSEC Program Manager Brian Blake, who helped develop the app. "SAVE volunteers got some hands-on practice, and we got to see the real-time reporting capability as results came in. I'm pleased with the results and we've now got a better idea of what works and what we've got to improve. I think this will be a good tool for future disasters, and responders across the nation will have access to it for free."
The exercise also tested the use of satellite-based GPS units as well as old-fashioned paper forms to report results if needed. "What most impressed me is the teamwork," said SEMA Director Ron Walker, who was on hand for the exercise. "We had folks from many states working together to organize this drill, inspect the buildings and report the findings, and they did a great job. In a real event, we'll rely heavily on each other, so now we know who we can contact to get expertise and assistance on the ground quickly."
Missouri's SAVE Coalition includes more than 1,000 volunteers who are available to assist when a disaster such as a tornado or earthquake causes so much structural damage that local officials need help determining the safety of buildings. SEMA helps coordinate activities of the SAVE Coalition, whose members have assisted the state during five disasters, including the May 2011 Joplin tornado. Find more information about Missouri's SAVE Coalition on the SEMA's earthquake preparedness webpage at: www.sema.dps.mo.gov.