SEMA News Release
FOR IMMEDIATE RELEASE
June 22, 2017
---
SEMA Flood Recovery Update Brief – Thursday, June 22
---
A new Disaster Recovery Center opens Friday, June 23 in Texas County. Recovery centers offer in-person assistance to flood survivors from FEMA and SBA. Get details on locations, operating hours and other disaster recovery centers at Recovery.mo.gov.  
The last of 13 Applicant Briefings for local governments and nonprofit agencies that are considering applying for federal Public Assistance for damage to public infrastructure and emergency response costs will be held at 9 a.m. Friday, June 23 at the Missouri National Guard Ike Skelton Training Site's first floor auditorium in Jefferson City. For more information call SEMA at 573-526-9234 or find it online here.
SEMA State National Flood Insurance Program Coordinator Karen McHugh briefed the South Central Ozark Council of Governments (SCOCOG) during its executive board meeting this week on the benefits of participation in the National Flood Insurance Program. SCOCOG includes Douglas, Howell, Oregon, Ozark, Shannon, Texas and Wright counties.
SEMA has answers to questions about the National Flood Insurance Program (NFIP) and eligibility for FEMA disaster assistance for disaster survivors who live in communities that do not participate in the NFIP on the Missouri Floodplain Management Program page. Find it here.
Missouri Recovery Photo of the Day
Route T in Wayne County near Lake Wappapello is now open to traffic after being heavily damaged by flooding. Two Missouri state roads remain closed due to flooding, in Jefferson and Mississippi counties. MoDOT crews continue to monitor these roads, working to clean debris and check for damage as the water recedes.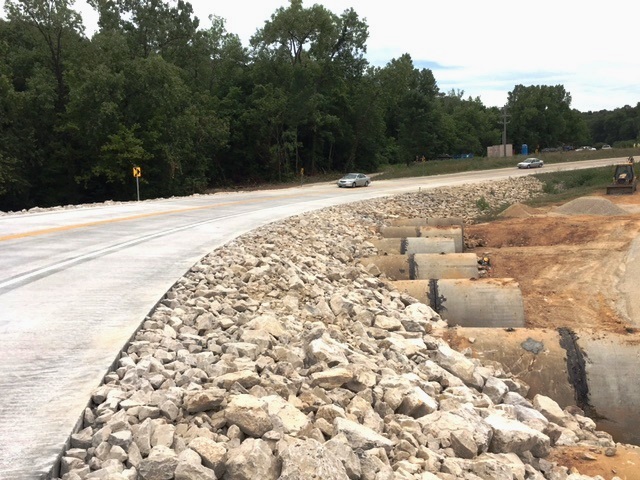 ---
For more information, call 573-751-5432 or e-mail mike.oconnell@dps.mo.gov