SEMA News Release
FOR IMMEDIATE RELEASE
June 15, 2017
---
SEMA Flood Recovery Update Brief – Thursday, June 15
---
SEMA has now scheduled Applicant Briefings for local governments and nonprofits in 46 counties included in the federal disaster declaration. Attendance by representatives from public entities that plan to apply for assistance for public infrastructure projects and reimbursement of emergency response costs is strongly encouraged. A schedule of the briefings, which begin Monday, June 19, and additional information are available here.
More than 1,000 applications for assistance from flood survivors have now been approved by FEMA. Flood survivors are encouraged to register for assistance as soon as possible at DisasterAssistance.gov or by calling 800-621-3362.
Friday, June 16 is the deadline for flood survivors to apply for the Missouri Disaster Food Stamp Program. Impacted families not currently on the Food Stamp Program must apply in person at a local DSS Family Support Resource Center. Center locations are available here. To verify identity, applicants need to bring a photo ID or two other documents, like utility bills or received mail. Families already receiving Food Stamp benefits can submit a "Disaster Food Stamp" form found online here.
A new FEMA Disaster Recovery Center opens Friday, June 16, at the Ripley County Caring Community Partnership Building, 209 W. Highway Street, Doniphan, MO 63935. Eight other recovery centers are open in Carter, Franklin, Howell, Jefferson, McDonald, Newton, Phelps and Taney counties, with more opening in the days ahead to serve flood survivors in other areas. Check Recovery.mo.gov site for location and operating days and hours. 

Flood survivors are encouraged to register for assistance before going to a recovery center, but can register there, too.
Representatives from FEMA and the SBA will be on hand to assist survivors with FEMA registration and completing an SBA disaster loan application.
Operating hours and details on the recovery centers are available at Recovery.mo.gov.

More than $24.4 million has been paid to Missouri flood survivors through the National Flood Insurance Program. Forty-two percent of 1,283 claims filed by policyholders have been closed using expedited processing.
Missouri Recovery Photo of the Day
Lisa Cook, of MoDOT's Southeast District's Risk Management Division, was recognized recently for providing outstanding customer service during the flooding. During an overnight shift, Cook took a call from a driver who got lost in flood-related detours while transporting medications to a nursing home. Cook took as much time as was needed to provide directions until the driver made it to familiar roads and completed the delivery. Lisa is pictured with MoDOT Southeast District Engineer Mark Shelton.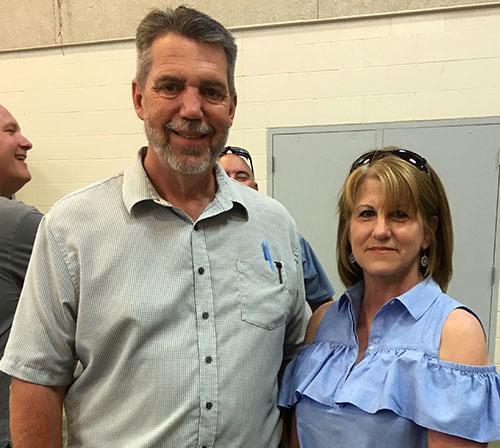 ---
For more information, call 573-751-5432 or e-mail mike.oconnell@dps.mo.gov