SEMA News Release
FOR IMMEDIATE RELEASE
July 07, 2017
---
SEMA Flood Recovery Update Brief – Friday, July 7
---
The deadline to apply for FEMA and SBA assistance is Aug. 1. Do not miss your opportunity to apply. Apply for federal assistance 24/7 at DisasterAssistance.gov or call 800-621-3362. FEMA encourages registration in advance to expedite assistance at Disaster Recovery Centers.
The FEMA Disaster Recovery Centers in Carter and Howell counties are scheduled to close at 2 p.m. on Saturday, July 8. DRCs in Oregon, Ozark and Stone counties remain open. Check the state's disaster recovery page here for details. 
FEMA's 23 recovery centers have logged more than 1,600 visits by survivors for one-on-one counseling on available assistance, flood insurance, mitigation methods and disaster loans from SBA. 
The Missouri Department of Mental Health announced FEMA had awarded the department a $500,000 Crisis Counseling Program grant that will fund psychological services to help build resiliency among disaster survivors. 
Read this week's MoRecovery update with news about progress in the statewide recovery effort here.
July 14 is the deadline for local governments and eligible agencies in 46 counties included in the federal Public Assistance disaster declaration to submit applications for FEMA assistance. Potential applicants should note that the Requests for Public Assistance must first be received by the State Emergency Management Agency, processed, and then submitted to the Federal Emergency Management Agency by the July 14 deadline, and plan accordingly. More information is available here.
Missouri Recovery Photo of the Day
A before/after image of Castlewood State Park's picnic shelter which was closed for nearly six weeks due to the flooding, but restored beautifully as shown below..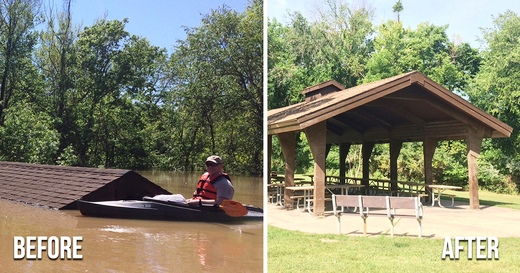 ---
For more information, call 573-751-5432 or e-mail mike.oconnell@dps.mo.gov