SEMA News Release
FOR IMMEDIATE RELEASE
July 12, 2017
---
SEMA Flood Recovery Update Brief – Wednesday, July 12
---
Local governments and eligible nonprofits have until noon on Friday, July 14, to submit applications for FEMA assistance. FEMA reimburses 75 percent of eligible expenses for infrastructure repairs and replacement and emergency response costs. More information is available here.
The deadline for homeowners and renters to apply for FEMA and SBA assistance is Aug. 1. Do not miss your opportunity to apply. Apply for federal assistance 24/7 at DisasterAssistance.gov or call 800-621-3362.
Newly available funding through a FEMA Immediate Services Program grant will allow the Missouri Department of Mental Health to continue providing crisis counseling services to flood survivors. Crisis counseling is available through six participating Community Mental Health Centers for those who live and work in disaster-designated counties. The Distress Helpline phone number for each county is available online here. Those who need help may also call the National Disaster Distress Helpline at 800-985-5990 or text "TalkWithUs" to 66746. Operators are available 24 hours a day, seven days a week.
St. Louis County's Rockwood School District expects Eureka High School's Gymnasium A to be fully repaired by Aug. 15. The gym floor was destroyed by May 2 flooding. There was also damage to an elevator, carpeting, drywall and storages area. In addition, baseball and softball areas were a total loss, including all electronics associated with the fields.
Missouri Recovery Photo of the Day
Eureka High School, in the Rockwood School District, is making steady progress in replacing the floor in Gymnasium A, which was destroyed by flooding on May 2.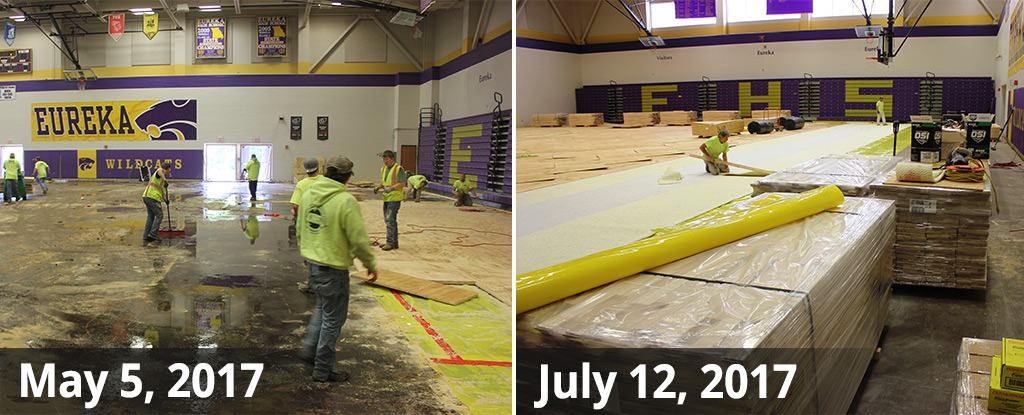 ---
For more information, call 573-751-5432 or e-mail mike.oconnell@dps.mo.gov