SEMA News Release
FOR IMMEDIATE RELEASE
July 11, 2017
---
SEMA Flood Recovery Update Brief – Tuesday, July 11
---
Local governments and eligible nonprofits have until noon on Friday, July 14, to submit applications for FEMA assistance. FEMA reimburses 75 percent of eligible expense for infrastructure repairs and replacement and emergency response costs. More information is available here.
The three remaining FEMA Disaster Recovery Centers – in Oregon, Ozark and Stone counties – close at 7 p.m. Wednesday, July 12.
The deadline for homeowners and renters to apply for FEMA and SBA assistance is Aug. 1. Do not miss your opportunity to apply. Apply for federal assistance 24/7 at DisasterAssistance.gov or call 800-621-3362.
Small nonfarm businesses in 52 Missouri counties are now eligible for low‑interest disaster loans from the U.S. Small Business Administration. These loans offset economic losses from reduced revenues caused by flooding from April 24 – May 11. The primary Missouri counties are: Bollinger, Butler, Cape Girardeau, Crawford, Dunklin, Franklin, Gasconade, Iron, Jasper, Jefferson, Laclede, Madison, Maries, Miller, Montgomery, Osage, Pemiscot, Phelps, Pulaski, Ripley, St. Louis, Ste. Genevieve, Stoddard and Wayne. Neighboring Missouri counties (which are entitled to the same benefits) are Audrain, Barton, Callaway, Camden, Carter, Cole, Dade, Dallas, Dent, Lawrence, Lincoln, Moniteau, Morgan, New Madrid, Newton, Oregon, Perry, Pike, Reynolds, St. Charles, St. Francois, St. Louis City, Scott, Texas, Warren, Washington, Webster and Wright. Applicants may apply online, receive additional disaster assistance information and download applications here. Applicants may also call SBA's Customer Service Center at 800-659-2955. The deadline to apply is March 6, 2018.
Here's how valuable a National Flood Insurance Program policy can be: As of June 28, 2017, 26 percent of NFIP claims filed were NOT in a Special Flood Hazard Area.
Missouri Recovery Photo of the Day
FEMA and SBA staffers work with flood survivors at the Disaster Recovery Center in Neosho, which closed on June 30. FEMA has operated 23 Disaster Recovery Centers. The remaining three close at 7 p.m. on July 12.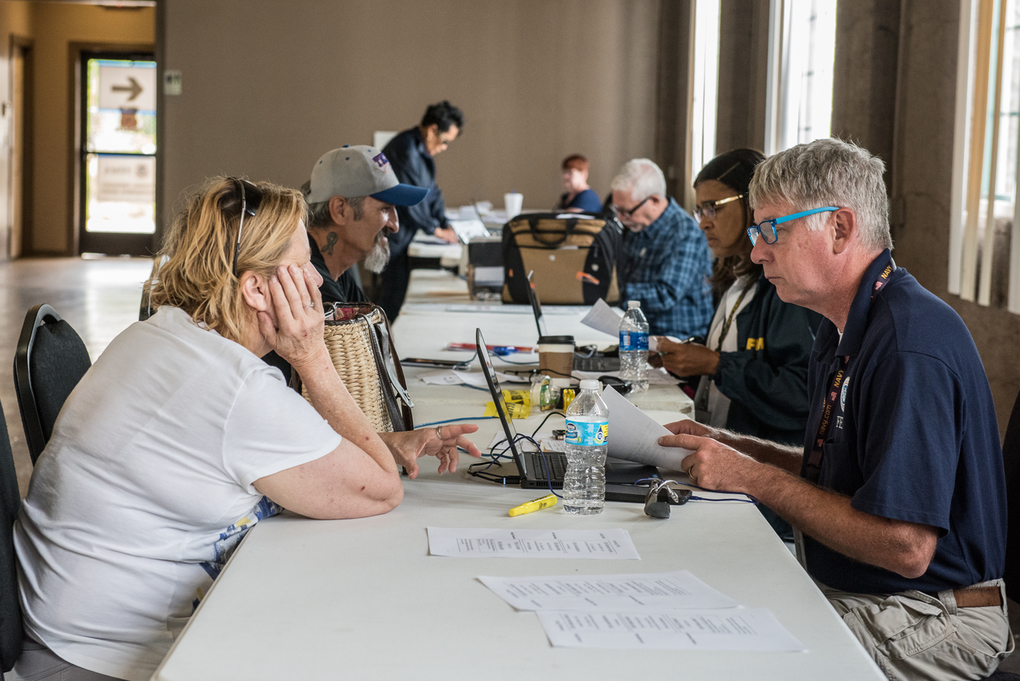 ---
For more information, call 573-751-5432 or e-mail mike.oconnell@dps.mo.gov