Earthquake Multimedia
Missourians Prepare in Case of an Earthquake
Watch the video and learn what you can do.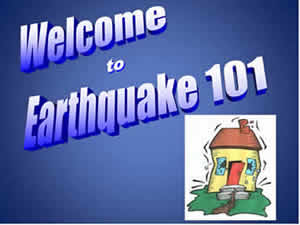 Earthquake 101 Slideshow
View the slide show for a brief overview of Missouri earthquakes, how they happen and what you can do to stay safe. Click here to download the slideshow in PowerPoint format, for use in presentations.
Drop Cover & Hold-Earthquake Safety in Schools
View an in-depth video detailing one Missouri school's comprehensive approach to earthquake preparedness, including information about earthquake risks associated with the New Madrid Seismic Zone.
Earthquake Safety for Kids
Missouri's Bootheel Youth Museum has adapted a classic children's story to teach kids about earthquakes and earthquake safety.